The Out for Lunch Series aims to create space on campus for education and community building centered on the lives and experiences of LGBTQIA+ individuals. Each month, we invite all students, faculty, and staff (LGBTQIA+ identified and those who support this community) to get together in-person or virtually and engage in conversation around a topic or issue within the LGBTQIA+ community.
Format
The Out for Lunch Series are hosted in the Taylor Center for Equity and Inclusion Lounge (BC 111) or via Zoom. These sessions are small group conversations with some prompting questions based on the designated topic (unless we have a guest speaker). Even if you aren't able to stay for the whole time, we still welcome you to join for as much as you are able.
Spring 2021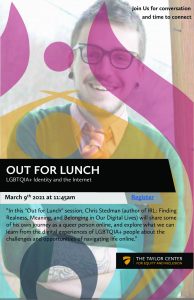 For many LGBTQIA+ people, the internet was the first place they could find connection, support, and resources—the first place they could truly feel like themselves. But the internet can also empower those who wish to harass or harm LGBTQIA+ people and members of other marginalized communities. In this "Out for Lunch" session, Chris Stedman (author of IRL: Finding Realness, Meaning, and Belonging in Our Digital Lives) will share some of his own journey as a queer person online, and explore what we can learn from the digital experiences of LGBTQIA+ people about the challenges and opportunities of navigating life online.
Previous programming
Wednesday, October 21, 2020 (5 PM at BC111) – Learning the Alphabet
Wednesday, October 21, 2020 (5PM via Zoom) – Latinx & Queer Panel
Wednesday, January 22, 2020– Commodification of the LGBTQIA+ Community
Tuesday, February 18, 2020- Religion and LGBTQIA+ Identity facilitated by Lenny Duncan
Wednesday, March 18, 2020- All Gender Restrooms – Cancelled due to the CONVID-19 
Tuesday, April 28, 2020- Conversion Therapy – Cancelled due to the CONVID-19 
If you have any questions, please email Jessica Cameron (camero6@stolaf.edu)