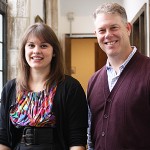 History at St. Olaf is a progressively sophisticated learning experience, where students gain the skills and expertise necessary to conduct their own research and produce original works of history.
First-year students typically begin with small-group history seminars that emphasize the analysis of primary sources and critical assessments of historical interpretations. Topics range from ancient warfare to Vietnam, Europe during the First World War to slavery in the Americas.
Second-, third-, and fourth-year students take courses that focus on the broad development of major societies and cultures, plus courses that cover more specialized topics. History majors culminate their studies with seminars that challenge them to  analyze historical problems and formulate their own questions about history, historiography, and historical methods.
St. Olaf history students can benefit from:
Conducting their own research and acquiring the ability to develop reasoned arguments and explanations derived from historical evidence
The Foreign Languages Across the Curriculum program that allows students to integrate their foreign-language skills with the study of history
Off-campus courses, including Slavery in West Africa in Ghana, Revolutionary Cuba in Cuba, and Mediterranean Archaeology Field School, plus semester- and year-long programs in Europe and Asia
Our faculty specializes in American, European, ancient, Asian, African, and Latin American history and can help history majors develop the ability to write well, debate effectively, embrace other perspectives, and recognize the manner by which the past has shaped our world today.