Departments of Asian (Chinese and Japanese), Classics (Ancient Greek and Latin), German, Norwegian, Romance (French and Spanish), and Russian inclusive and welcoming banner, December 2019.
Diane LeBlanc, Writing and Michele Eodice, University of Oklahoma:  "Designing Writing Assignments: Meaningful Makeover Practice",  Tuesday, Oct.30, 2018, 3:45-5:15,  Holland 502
This workshop, led by Michele Eodice, Associate Provost for Academic Engagement and director of the writing center at the University of Oklahoma, will focus on designing meaningful, accessible writing assignments. You will appraise a writing assignment you have offered to students and be guided to redesign with a focus on access and agency. The goal of developing our inclusive pedagogies requires us to examine closely the assumptions, values, and practices that might be preventing students from engaging with the assignment to the fullest. We will critique our writing assignments and redesign them based on Universal Design Principles and features of meaningful writing projects. Together, we can construct a more expansive frame for students to work within, offering multiple entry points to approach the writing tasks and activating student agency to engage with the project.  Please browse The Meaningful Writing Project for an overview of the research, and bring to the workshop an assignment that you want to re-see and redesign.
Ben Gottfried, IT; Joe Young, CAAS; and selected faculty:  "Designing a Just Classroom: Technology, Textbooks, and the Law", Thursday, Feb. 28, 2019, 3:30-5:00 Holland 523
As we continue to grow in awareness of the many social issues facing our students and communities, educators are faced with reflecting on their classes and figuring out how to make courses more fair and accessible. Faculty will hear from colleagues, members of DiSCO, and Disability and Access staff on ways of using technology and other classroom practices to create a more equitable learning environment.
Bridget Draxler, Writing and Speaking Specialist:  "Designing Feedback", Thursday, April 18, 2019,  3:30-5:00 Holland 52
In our final workshop of the series, we will discuss strategies for giving more inclusive feedback on student work. Drawing on best practices from Writing Center pedagogy, we will talk about ways of listening and responding to students in ways that acknowledge the deeply personal and political nature of writing and speaking. Framing feedback as conversation rather than correction, and exploring multimodal tools for responding to student work, this workshop will offer strategies for creating accessible and meaningful dialog with students about their written, spoken, and multimedia work.  In advance of the workshop, please read "Social Justice in the Writing Center" (The Peer Review, Volume 1, Issue 2, Fall 2017).
Jill Watson, Education and Anne Berry, Center for Advising and Academic Support:   "Designing an Inclusive Classroom: Engaging All Students through Universal Design":
Our campus is full of unique individuals — each with a unique set of abilities, needs, preferences, and background experiences. Inclusive, effective instruction recognizes our diversity and proactively enables engagement by all. This workshop explores equity in higher education, and presents strategies, such as Universal Design for Learning (UDL), that are helpful in planning for and enacting equitable pedagogy for all students. Participants will see examples of various teaching strategies, learn how they can promote equity and inclusivity, and have the opportunity to create inclusive teaching tools for use in their own courses.  PowerPoint presentation can be found here.
Laura Listenberger, Biology/Chemistry and Elodie Marlier, Biology:  "Increasing Persistence and Performance in Introductory Chemistry"
There is currently a national conversation about increasing participation and retention in science, engineering, technology, and mathematics (STEM fields) to meet an expanding demand for STEM trained workers in the US. Many students who enter college intending to pursue a major in STEM do not continue on this path. While some students discover a passion for an alternative field, others find the coursework challenging and lack confidence in their ability to proceed. Increased support in introductory classes may give more students the option to choose to major in a STEM field.
This project aims to identify specific course activities that impact interest and performance in Chemistry 121 and 125. We have designed a series of assignments and seek to determine (1) if completion of the assignments increase course performance, (2) if some populations of students are more impacted than others, and (3) if any benefits transfer to performance in other STEM courses. In addition to analyzing the data from the first year of the project, students will build the tools that will be used for analysis of future data sets. Thus, this project will help determine the best way to meet the needs of introductory STEM students.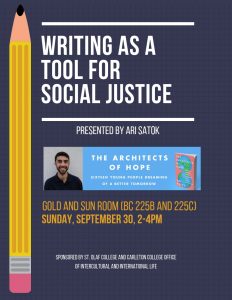 Ari Satok:  "Writing as a Tool for Social Justice"; September 30, 2018;  2:00-4:00PM; Gold and Sun Rooms (BC225B & 225C)
Ari Satok is an author and speaker who wrote a book called "Architects of Hope" compiling the stories of students in international schools around the world. He is travelling the United States this year for  book readings and facilitates story-telling/writing workshops. His workshop is focused on utilizing writing as a tool for social justice and inclusion. Ari Satok will share with us his journey around the world in a storytelling workshop.
Gregory Walter, Religion:  "Theology and the Diverse Classroom"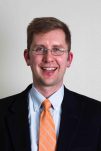 Instructors at St. Olaf College have a long history of adapting their syllabi, classrooms, and assignments to engage in theological inquiry with a changing and increasingly
diverse group of students. Instructors already face classroomsthat contain students who feel an intense rupture between academic theology and faith communities, students who experience potent disagreements about deeply held beliefs, as well as students who have no background knowledgewhatsoever about any religion at all.
In addition to these well-known facets of our classrooms, contemporary student diversity is a pressing concern that requires examination of course construction, assignments, and classroom management for their adequacy to thediscipline and to the student population.  While literature exists studying theological education for seminary and divinity schools or for religious studies programs, little exists for explicitly theological education for undergraduates. This workshop provides time and resources to explore these needs and to develop an assessment strategy for doing theological inquiry in diverse classrooms.