Location : Tomson 280
Date & Time: December 6th, 1:15- 7:15pm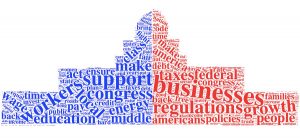 On Dec. 6, 2018, St. Olaf College will host its second biennial conference on undergraduate research and American elections.  The conference will feature interdisciplinary perspectives and analysis of the 2018 midterm elections, including: (1) Undergraduate research panels exploring Minnesota's Second Congressional district through the lens of an election-day exit poll, (2) Undergraduate research panels exploring political communication in congressional races across the country, (3) Posters highlighting academic civic engagement at St. Olaf, and (4) A keynote address delivered by Dr. Christina Wolbrecht.  Through these posters, panel discussions, and lectures, the conference will shed light on an array of substantive topics.
Students will examine patterns of voting behavior in the U.S. electorate, and how issues and image influenced vote choice.  We will pay particular attention to the role of gender in an election that saw a record number of female candidates, as well as a widening pronounced gap in the American electorate.  We will devote attention to political rhetoric, including the causes and consequences of uncivil discourse.  The conference is self-consciously student focused, highlighting the research contributions of undergraduates, as well as the ways students engaged in civic processes during the midterms.The 2018 Midterm Elections conference is sponsored by the St. Olaf Leraas Fund, the St. Olaf Social Sciences Division, the Academic Civic Engagement program, and the St. Olaf Department of Political Science.
About the speaker: 

Dr. Christina Wolbrecht is a professor of political science at the University of Notre Dame, the director of the Rooney Center for the Study of American Democracy, and the C. Robert and Margaret Hanley Family Director of the Notre Dame Washington Program. Dr. Wolbrecht specializes in women and politics, political parties, and American political development. Most recently, she is the co-author of Counting Women's Ballots: Female Voters from Suffrage Through the New Deal (Cambridge 2016) which won the American Political Science Association's Victoria Schuck prize for the best book on women and politics. She is currently co-writing a book, A Century of Votes for Women, on the first one hundred years of women as voters in the United States.