Dorothy Parker: What Fresh Hell Is This?
By Marion Meade
Penguin Books 1989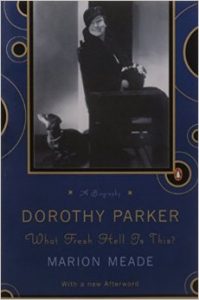 Dorothy Parker is remembered today as a wit, her best-known work a two-line poem called "News Item": "Men seldom make passes/at girls who wear glasses." Like other celebrated wits, she is also remembered for her conversation. Cornered once by a British man who complained about his busy "shedule" (using the British pronunciation), in exasperation she finally said, "You're full of skit."
But she was much more than a writer of clever verse or a conversationalist. She was a poet, a critic, a playwright, a screenwriter, an author of short stories, and the friend or acquaintance of nearly every important literary figure in America in the 1920's and 30's. Twice nominated for an Academy Award, she was an important contributor to The New Yorker magazine in its early days and a political activist in support of the Spanish loyalists. She was blacklisted in Hollywood, the subject of FBI surveillance, and a witness called before the House UnAmerican Activities Committee. She left her entire estate to Martin Luther King, Jr., whom she had never met, because of his resistance against segregation.
She was also a desperately unhappy person, conflicted about her Jewish background, drawn to men who could not or would not love her, married three times (twice to the same man), alcoholic, gossipy, and inclined to write indiscreetly about her friends in her fiction. She lived by her pen, but she found it hard to write, and she felt that her work never attained the status of significant art. Perhaps it's the 18th-century scholar in me, and allowing for differences of gender, time, and range of work, she reminded me in many ways of Samuel Johnson.
Marion Meade's biography gets you past the popular image of her as a lively wit with a prominent place at the Algonquin Roundtable, and–as the subtitle of her biography suggests–into Parker's troubled life, which she sets in the context of literary life in America during two decades that included Fitzgerald, Hemingway, Edmund Wilson, Robert Benchley, Lillian Hellman, Ring Lardner, and many others, including cultural figures as disparate as Leonard Bernstein and the Marx Brothers.
In the end, it's a sad story about a talented person on a self-destructive path–which, by the way, was the life trajectory of many of the people just named in the previous paragraph–but it leaves you better equipped to understand their work and their age.