The Shakespeare Requirement
By Julie Schumacher
Doubleday, 2018.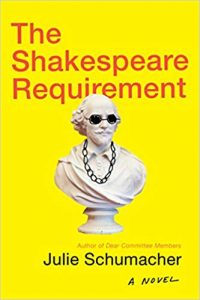 I loved Julie Schumacher's hilarious Dear Committee Members  (2014), a story told entirely through letters of recommendation by Jason Fitger, an English professor at the fictional Payne University, so I was excited to read her new novel, The Shakespeare Requirement, which opens with Fitger having been made Chairperson of the English Department. This means that he is now tasked with things he has disdain for and is not good at, like attending meetings, keeping appointments, attending to administrivia, being nice to people, and so forth. This can't end well.
Or can it?  What made Fitger such a sympathetic character in Dear Committee Members was the joyful eloquence with which he expressed all of his cranky frustration with his University, his colleagues, the state of the world, and himself. In The Shakespeare Requirement Schumacher is just as brilliant at endowing Fitger with eloquent exasperation, and she continues to be hilariously ruthless in mocking the ways of academia and the people who inhabit that world. But what makes this novel so compelling is the warm-hearted way in which she also reveals, bit by bit, the side of Fitger that truly is sympathetic. You can be a pill and a lovely human being at the same time—well, maybe "lovely" is a little strong for Fitger, how about "sympathetic"—and Schumacher proves that.
This is a wonderful novel. Pick it up right away.