Branden Moriarity '07
Alumni Achievement Award recipient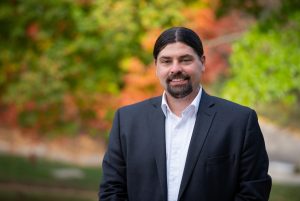 Branden Moriarity of the Class of 2007 is an associate professor in the Department of Pediatrics/Division of Pediatric Hematology and Oncology at the University of Minnesota Medical School and holds academic appointments in three of the university's graduate programs. He is also the director of the Moriarity Lab, which is known for developing novel cellular therapeutics for the treatment of cancer and genetic diseases.
Moriarity was a first-generation college student and credits the TRIO Student Support Services (SSS) program for his academic success at St. Olaf and his continued success as an educator and cancer researcher. He earned a B.A. degree in biology and chemistry with a concentration in biomolecular sciences at St. Olaf and a Ph.D. in genetics and molecular, cellular, and developmental biology from the University of Minnesota Medical School.
Moriarity's administrative appointments include leadership roles at the university's Stem Cell Institute, the Center for Genome Engineering, and the Masonic Cancer Center, at which he co-directs the Genome Engineering Shared Resource. He has authored or co-authored numerous peer-reviewed publications on pediatric cancers, osteosarcomas, cancer immunotherapy, and genome engineering, and has received a McKnight Land-Grant Professorship, an Early Innovator Award, and an Innovator in Translational Research Award, as well as two TRIO Achievement awards. Moriarity has started three genome engineering and cancer immunotherapy biotech companies out of the University of Minnesota, which promote critical focus on designing and engineering new therapies and safe translation of the therapies to clinical trials.
Moriarity's family includes his wife, Erin Hoffman Moriarity '06, and his parents, Scott and Ann Moriarity, who both work at St. Olaf.