Jason DeRose '97
Distinguished Alumni Award recipient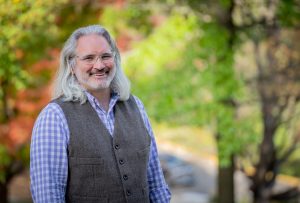 National Public Radio Western Bureau Chief Jason DeRose of the Class of 1997 oversees and edits the network's news coverage from reporters in California, Washington, Oregon, Alaska, and Hawaii, as well as NPR's nationwide coverage of religion and LGBTQ rights. He previously was a business editor at the network and an editor on the midday news program Day to Day. Prior to coming to NPR, DeRose was a reporter and editor at WBEZ in Chicago and KPLU in Seattle. Over the course of his career, he has reported on stories of national importance, such as views toward Islam in post–9/11 America and clergy sex abuse in the Catholic Church.
DeRose holds a B.A. in English and religion, magna cum laude and Phi Beta Kappa, from St. Olaf and a master's of divinity degree from the University of Chicago. While at St. Olaf, he worked as a technical board operator at WCAL and interned on NPR's Washington Desk in Washington, D.C., where he also temped as a producer on All Things Considered. He also interned as an oral history interviewer at the United States Holocaust Memorial Museum and was a journalism trainer at the International Center for Journalists.
DeRose has taught at DePaul University in Chicago and at Northwestern University's Medill School of Journalism, and currently serves on the board of directors and teaches the art of storytelling at Holden Village, a retreat center in Washington State's Cascade Mountains.