Nicholas Epley '96
Alumni Achievement Award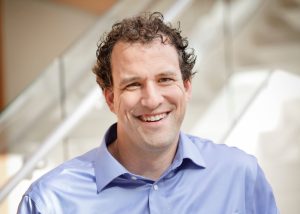 Nicholas Epley of the Class of 1996 is the John Templeton Keller Professor of Behavioral Science, Neubauer Family Faculty Fellow, and faculty director of the Center for Decision Research at the University of Chicago Booth School of Business.
Epley, an award-winning behavioral scientist, is known for his work in social cognition, studying how thinking people make inferences about what other thinking people are thinking. His experimental research focuses on investigating the accuracy of those inferences and the common mistakes we make in attempting to read other people's minds. He is the author of Mindwise: How We Understand What Others Think, Believe, Feel, and Want.
Epley's experiences at St. Olaf inspired him to become an academic. He earned a B.A. degree in psychology and philosophy and conducted his first behavioral science research at the college. He published his first scientific paper with Professor of Psychology Charles Huff. He also completed an independent study in moral theory with Professor of Philosophy and Religion Edmund Santurri. He went on to earn a Ph.D. in psychology at Cornell University and has been on the Chicago Booth faculty since 2004. His research is funded by the National Science Foundation and the Templeton Foundation and has been published in both the mainstream media and peer-reviewed journals.
Epley and his wife, Jennifer Bartlett Epley '96, are the parents of five children, including Benjamin Epley '23, who is currently studying chemistry and environmental science at St. Olaf.