Utit Choomuang '75
Distinguished Alumni Award Recipient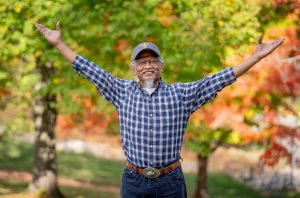 Artist and animator Utit Choomuang of the Class of 1975 comes from a humble beginning in a primitive Thai jungle. His early education by Buddhist monks led to a chance meeting with Peace Corps volunteer Terry Fredrickson, whose father, Sigurd Fredrickson, was a music professor at St. Olaf. The elder Fredrickson and his wife, Margit, recognized Choomuang's artistry, curiosity, and intellect, welcomed him as an exchange student at Northfield High School, and supported him in his pursuit of a B.A. degree in art and art history at St. Olaf. Choomuang went on to have a distinguished career as an animator, and now lives near his childhood community in Thailand, where he is continually seeking ways to bolster the village of his ancestors.
As an animator, Choomuang worked with independent filmmaker Barry Nelson, CBS-TV's Charlie Brown and Snoopy Show, and Disney Television's Goof Troop. He worked in character layout for The Simpsons before becoming the show's overseas animation director at Akom Animation in Seoul, South Korea, managing three subcontracted studios with hundreds of artists who were responsible for animating every frame of each episode of the show. He retired from The Simpsons after 16 years.
Choomuang lives in Nongnokkai, Thailand, where he cultivates and maintains land and waters that support local farming and fishing projects. His plans to open an English immersion school for local villagers are currently paused due to the COVID-19 pandemic.