Anne Dobmeyer '93
Alumni Achievement Award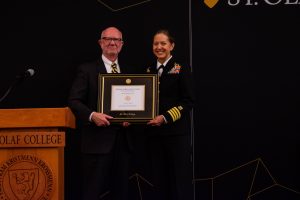 Anne Dobmeyer serves as an active duty psychologist in the United States Public Health Service, providing leadership for the implementation of primary care behavioral health programs across the Department of Defense. Her central professional interests include primary care behavioral health, biopsychosocial interventions for insomnia and chronic pain, and disaster mental health services. She has authored several books in her areas of interest, including Psychological Treatment of Medical Patients in Integrated Primary Care and the first and second editions of Integrated Behavioral Health in Primary Care: Step-by-Step Guidance for Assessment and Intervention.
After graduating from St. Olaf, Dobmeyer earned her Ph.D. from Utah State University. She completed a postdoctoral fellowship at Wilford Hall Medical Center and is board certified in clinical health psychology. Prior to her current position, she served for eight years as an active duty psychologist in the U.S. Air Force, completing two deployments in support of Operation Enduring Freedom.
Dobmeyer has expertise in disaster mental health following terrorist attacks and during public health emergencies, having responded to the 9/11 attack on the Pentagon, the Boston marathon bombings, the Ebola epidemic in Liberia, and the COVID-19 pandemic, among others. She has served as president of the American Board of Clinical Health Psychology and as a Trustee of the American Board of Professional Psychology. Her contributions have been recognized with the Senior Psychologist Career Achievement award from the United States Public Health Service, the Humanitarian Assistance Award from the Association of Military Surgeons of the United States, and the Exemplary Service Medal from the U.S. Surgeon General.