Mark Murakami '02
Alumni Achievement Award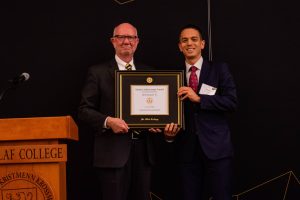 Mark Murakami is an assistant professor of medicine at Harvard Medical School and an independent investigator in the Division of Hematologic Neoplasia at the Dana-Farber Cancer Institute. He treats patients with blood cancers, including those undergoing stem cell transplant, at Dana-Farber and Brigham and Women's Hospital in Boston. He is dedicated to training the next generation of physicians and scientists who are passionate about developing tolerable and curative treatments for patients with blood cancers.  
After graduating from St. Olaf, Murakami spent a year as a health care community organizer at the Minnesota Senior Federation in St. Paul as part of the AmeriCorps VISTA program. He then enrolled in medical school at Washington University in St. Louis, where he earned an M.D. and M.A. in biology and biomedical sciences. He served as an intern and resident in internal medicine at the Massachusetts General Hospital in Boston  before advancing to subspecialty training in hematology and medical oncology at the Dana-Farber/Harvard Cancer Center. During this time he realized his passion for treating patients with leukemia and lymphoma and initiated postdoctoral research in the laboratory of Dr. David Weinstock, under whose guidance he sought to define mechanisms of resistance to targeted therapies and nominate next-generation treatment strategies for patients with acute lymphoblastic leukemia. Murakami also obtained a Master of Medical Science degree in biomedical informatics from Harvard Medical School to develop skills that would complement his activities in genetics and experimental therapeutics.
Murakami joined the faculty of the Department of Medical Oncology at the Dana-Farber Cancer Institute in 2018 to lead an independent research laboratory focused on defining how tumor cells persist despite the presence of highly active therapy. His laboratory tests rational precision therapies to preempt or eradicate these persistent tumor cells in preclinical models, with the ultimate goal of advancing nominated therapies into early phase clinical trials.