Nils Snyder '99
Outstanding Service Award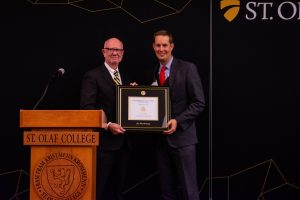 Nils Snyder is a partner with Kenwood Commercial Real Estate. After 20 years working in corporate real estate as a landlord and tenant advisor, Snyder and his partners opened Kenwood Commercial. The original idea behind the formation of Kenwood is the partners' desire to provide authentic, local, and knowledgeable service, tailored to each client's unique objectives.
An established industry leader, Snyder is among the most successful and widely recognized industry veterans in the Twin Cities. Along with his business partners, Mike Doyle and Mike Brehm, Snyder works to provide clients with the best financial and employee solutions, with more than 40 years of experience.
Minneapolis Business Journal 40 Under 40 honoree, Minnesota Business Monthly Minnesotans on the Move, Minnesota Business Real Power 50, several top 10 broker award wins, and membership in Colliers International's Everest Club. 
Snyder is an active civic leader, having served on the board of the Minneapolis Downtown Improvement District, as vice-chair of the Guthrie Theater Business Circle Committee, and as a Housing and Development Committee member with Project for Pride in Living. He is also a current board member of Special Olympics of Minnesota.
In addition to this work, Snyder has volunteered extensively to support St. Olaf and its students. He has served six times on the steering committee for Ole Biz, a networking event for St. Olaf students, alumni, parents, and friends of the college who are interested and involved in business. He has also volunteered his time with the St. Olaf Piper Center for Vocation and Career in other ways to support and mentor students. Outside of his work with the Piper Center, Snyder has served on his reunion committee four times and worked as a Class Fund Agent.