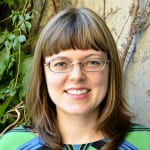 Ashley Hodgson
Associate Professor of Economics
Ph.D. University of California, Berkeley, 2011, B.A. Washington and Lee University, 2003
Office Hours
M 10:00-11:00am
W 11:30-12:30am
Th 12:00-2:00pm
F 10:00-11:00am & 3:00-4:00pm
Or by appointment

Teaching in Economics: Principles of Economics, Micro-economic Theory, Healthcare Economics, and Behavioral Economics
Advising for:  (a) Health Care Administration and (b) Actuarial Sciences
Research Areas: Healthcare, Medicare and Public Health.
Publications:
-"Diffusion of minimally invasive procedures across hospitals and traits of fast adopting hospitals" with Chloe Mitchell and Alec Paulson, Atlantic Economic Journal, forthcoming.
–"Low-Mortality Death in Hospitals After Vertical Integration with HMOs" with Aaron Miller, Journal of Hospital Administration, August 2017, Vol. 6, No. 4.
-"Exploring the Validity of Developing an Interdisciplinarity Score of a Patient's Needs: Care Coordination, Patient Complexity and Patient Safety Indicators" with Lacey Etzkorn, Jess Bestrashniy, Alex Everhart, and Nick Nooney, Journal for Healthcare Quality, March/April 2017, Vol. 39, No. 2, pp. 107-121.
–"Does Better Nurse Staffing Improve Detection of Depression and Anxiety as Secondary Conditions in Hospital Pneumonia Patients?" with Dorothy Morgan and Ryan Peterson, Nursing Economic$, Vol. 34, No. 3, May/June 2016, pp. 134-143.
-"The Financial Impact of Hospital Closures on Surrounding Hospitals". with Paul Roback, Andrew Hartman, Erin Kelly and Yujie Li. Journal of Hospital Administration, Vol. 4, No. 3, June 2015.
-"Adverse Selection in Health Insurance Markets: A Classroom Experiment". The Journal of Economic Education 45.2 (2014): 90-100.
-"Health Care Supply and County-level Variation in Attention-deficit Hyperactivity Disorder Prescription Medications", with Tim Bruckner, Chris Brown-Mahoney, Brent Fulton, Peter Levine and Richard Scheffler, Pharmacoepidemiology and Drug Safety, April 2012 Vol. 21, No. 4, pp. 442-449.
-"Jobless Recoveries and the Wait-and-See Hypothesis", with S. Schrift and A. Singh, Economic Review, Federal Reserve Bank of Kansas City, 4th quarter, 2005