FACULTY
GORDON MARINO, Curator & Professor at St. Olaf College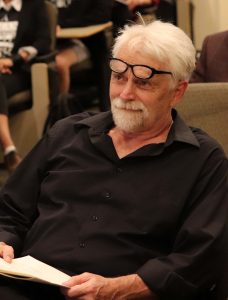 Gordon Marino specializes in the History of Philosophy, Philosophy of Religion, and Kierkegaard. Professor Marino is the author of Kierkegaard in the Present Age and co-editor of The Cambridge Companion to Kierkegaard. His articles have appeared in the Atlantic Monthly, New York Times Magazine, Wall Street Journal, American Poetry Review, and many other periodicals.
Marino is also the Curator of the Hong Kierkegaard Library. For more information, view our About the Curator page.

His office is located in Rølvaag Memorial Library 225C, and he can be reached by phone at

507-786-3797 or emailed at

marino@stolaf.edu
staff
EILEEN SHIMOTA, Assistant Curator
Eileen Shimota has worked at St. Olaf College in various positions for over 20 years. With her undergraduate degree in communications and a master's in experiential education, she finds basically every aspect of the St. Olaf campus a great place to work. But her strong interest in sociology, philosophy, and history has led her to want to work in the Kierkegaard Library.
Often described as "a hidden gem on St. Olaf's campus" she appreciates the opportunity to work in a culture of intellect and meet accomplished scholars from all over the world. Her office is located in Rølvaag Memorial Library 225C, and she can be reached by phone at

507-786-3846 or emailed at

shimota@stolaf.edu
LISE FAILLETTAZ, Library Collections Associate

Lise Faillettaz has worked for the Hong Kierkegaard Library since 2003. In addition to providing assistance to students and scholars, she has responsibilities in the areas of collection development, acquisitions, access to periodical articles, and the organization of the historical archives of the Hong Kierkegaard Library. A graduate of Luther College with a B.A. in English and French literature, she earned an M.A. in Psychology from the University of St. Thomas. Her library background at St. Olaf includes many years helping develop the Government Documents position in Rolvaag Library.
DON JANKE, Library Assistant (Volunteer)

Don Janke is a supporter of the Kierkegaard Library who has spent the past 20+ years working as both a staff and volunteer member.
BAILEY KINSKY, Conservation Consultant
Bailey Kinsky is conservator and owner of Valkyrie Conservation. She earned her M.A. degree with a Certificate of Advanced Study in Art Conservation at SUNY Buffalo State College, and she works to preserve as much of the historical integrity of a book while still allowing it to function as a readable material.
TROY WELLINGTON SMITH, Special Consultant for the Rare Book Collection (volunteer)
Troy Wellington Smith is a fourth-year PhD student in the Department of Scandinavia at the University of California, Berkeley. He holds a Master's of Library Science degree from Clarion University of Pennsylvania and a Master's in English literature from the University ofMississippi, where he defended a thesis entitled "Kierkegaard and Byron: Disability, Irony, and the Undead." In addition to having participated several times in the Hong Kierkegaard Library Summer Fellows program, he is also an Assistant Editor of the Library's Søren Kierkegaard Newsletter. At Berkeley, he plans to write a dissertation on Kierkegaard and Book History.
STUDENT WORKERS
A list of St. Olaf students currently working at the Hong Kierkegaard Library during the 2019/20 academic year.
EMMA AANESETAD – As a member of the outdoors club and a variety of other organizations, Emma pairs her love for nature with her desire to make a difference in the St. Olaf community. She is currently exploring the Psychology major. First semester and Interim.
AMY IMDIEKE – is a junior Chemistry and English major from Minnesota. When she's not running in the natural lands, you can often find her tucked away in a corner of the library with a book by Jack Kerouack. She is the Layout Editor for the The Reed: An Undergraduate Journal of Existentialism and Web Editor for The Quarry: Literary and Fine Arts magazine. First and second semester.
MATTIAS KOSTOV – An international St. Olaf student from Bulgaria, Mattias is a Philosophy major and the current Editor in Chief of the The Reed. First and second semester.

ABBY SHIMOTA – is a senior political science major at St. Olaf. After college, she hopes to attend law school and earn a dual JD/MPP degree. In her free time, Abby enjoys horseback riding, reading, and traveling. Interim and Second Semester.
HOLLY SMITH –  is perusing a degree in both Studio Art and Art History at St. Olaf and will graduate with the class of 2020 this upcoming spring. Full year.