FACULTY
Anna Söderquist, HKL Director & Associate Professor of Philosophy at St. Olaf College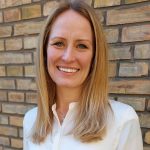 Anna Söderquist specializes in Kierkegaard, Continental Philosophy, and the History of Philosophy. Her interests meet at the intersection of philosophy, religion, literature, and art. She is the author of Kierkegaard on Dialogical Education: Vulnerable Freedom, has published articles in Res Philosophica and The Philosophical Forum, and contributed chapters to numerous edited volumes on Kierkegaard.
Söderquist is also the Director of the Hong Kierkegaard Library. For more information, view our About the Director page. Her office is located in Steensland Hall, and she can be reached by phone at 507-786-3797 or emailed at soderq3@stolaf.edu. Her office hours are Mondays from 10:15-11:15 and by appointment.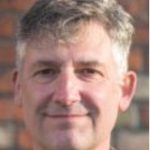 Brian Söderquist, Endowed Kierkegaard Chair in Christian Philosophy, St. Olaf College Philosophy Department
Brian's areas of specialization are Philosophy of Religion, Existentialism, and the thought of Søren Kierkegaard. Brian has a Ph.D. from the University of Copenhagen, a master's degree from Yale University, and a bachelor's degree from Utah State University. He is the author of The Isolated Self: Truth and Untruth in Kierkegaard's On the Concept of Irony as well as numerous articles and book chapters. He was part of the team that translated Kierkegaard's Journals and Notebooks (11 volumes) and has served as co-editor of Kierkegaard Studies: Yearbook and Kierkegaardiana.
STAFF
Eileen Shimota, Assistant Director

Eileen Shimota has worked at St. Olaf College in various positions for over 25 years. With her undergraduate degree in communications (focus Public Relations) and a master's in education (focus on psychology), she finds the St. Olaf campus a great place to work. But her background, along with her strong additional interests in sociology and theology, has led her to want to work in the Kierkegaard Library. Often described as "a hidden gem on St. Olaf's campus" she appreciates the opportunity to work in a culture of budding and accomplished Kierkegaard scholars from all over the world.
Eileen is also an aspiring writer publishing her first children's book entitled, "Your Friend Elsie". She also writes poetry and short stories.
Her office is located in Steensland Hall, and she can be reached by phone at 507-786-3846 or email at shimota@stolaf.edu
Marcie Killian, Digital Archivist (Part-Time)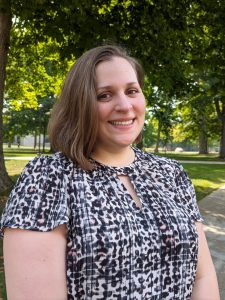 Marcie graduated from St. Kate's in the library and information science program at the top of her class. Her focus on archives and special collections stems from a passion to preserve all community voices, support public engagement and service, and utilize the past to educate and shape the future. 
Elizabeth Black, Librarian (Part-Time)
Elizabeth Black is a library and arts professional with a Master of Arts in Arts Management and Creative Producing. She has worked with several libraries and higher education institutions, including Carleton College, Blue: The Tatter Textile Library, and currently as Collections Cataloger at St. Olaf College. Along with her position at the College, Elizabeth is pursuing library and archival studies through Simmons University. 
Jill Fisher, Library and ARO/Visa Coordinator (Part-Time)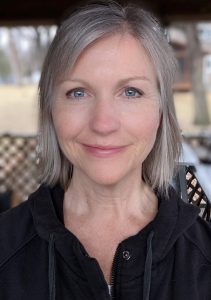 Jill Fisher has worked at St. Olaf since 2012 and has been with Kierkegaard Library since 2021.  Jill received her BA degree from Concordia College, Moorhead with a double major of International Relations and Scandinavian Studies. At Concordia, she learned about Kierkegaard and the famed Hong Kierkegaard Library from her professor Rune Engebretsen who was a long time supporter of the Friends of the Kierkegaard Library and of the Kierkegaard House Foundation.  She is thrilled to now be a member of staff. Jill was introduced to Denmark and the Danish culture and language as a Rotary exchange student and is today a self proclaimed Dano-phile. She continues to enjoy learning Danish in her spare time.
Lise Faillettaz, Library Collections Associate (Part-Time)

Lise Faillettaz has worked for the Hong Kierkegaard Library since 2003. In addition to providing assistance to students and scholars, she has responsibilities in the areas of collection development, acquisitions, access to periodical articles, and the organization of the historical archives of the Hong Kierkegaard Library. A graduate of Luther College with a B.A. in English and French literature, she earned an M.A. in Psychology from the University of St. Thomas. Her library background at St. Olaf includes many years helping develop the Government Documents position in Rolvaag Library.
ACADEMIC YEAR STUDENTS WORKERS (2023-24)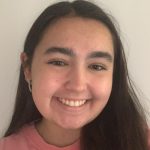 Kiara Fitzpatrick '25, Communications Assistant, is from Kirkland, Washington and pursuing degrees in French and Philosophy.  This is Kiara's second year working at the Hong Kierkegaard Library and she is thrilled to be working in an environment so devoted to the study of existentialism, of which her interest was first peaked by Simone de Beauvoir, a feminist existentialist philosopher (whose work can be found in the collection!). When not consumed by her course load, Kiara can be found reading in a yellow adirondack chair on the quad, or scouring Northfield for the best coffee.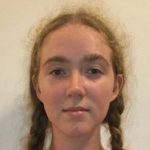 Ivy Lanz '24, Library Assistant, is from South Kingstown, Rhode Island and is currently undecided about a major. "I am deeply interested in History and Library Science. With this school year opening back up, I hope to join an intramural sport and new clubs. This is my first year working at the Hong Kierkegaard Library and I am excited to get to know the library, its staff, and the work surrounding the job. I, and another student, will be working on grant related tasks for the Rare Book Collection."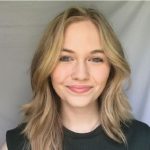 Else Madsen '25, Administrative Assistant, is from Duluth, Minnesota and is majoring in Political Science and Religion. Else first encountered the Hong Kierkegaard Library as she toured the St. Olaf campus, and once accepted on campus, Else knew that she wanted to explore the library and the community within the library more. When she's not in class, Else is often exploring a new hiking trail, reading in a hammock, or doing work with political organizations.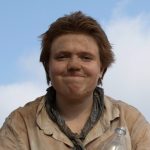 Liz Mills '25, Archival Assistant, from Kennebunkport, Maine is studying Philosophy and Classics. Liz is starting her second year at the HKL, but her journey in philosophy started in high school when she began reading the works of Sartre and Camus. As Liz began reading her way through the existentialists, she found that it was Kierkegaard who captured her interest. Outside the world of philosophy, Liz enjoys jaunting around the Natural Lands and attempting to learn Ancient Greek.
Chloe Revier '25, Media Assistant, is from Finlayson, Minnesota, and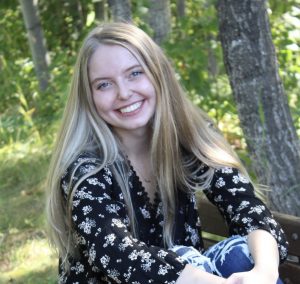 studying English and Film and Media Studies. In her first year working for the Kierkegaard Library, she is working alongside fellow staff and faculty to create educational videos and promotional materials to spread awareness of different aspects of the library, specifically the Rare Book Collection. In her free time, you can find Chloe watching movies or trying to pet all of the dogs she can find while walking in town. 
CONSULTANTS and volunteers (2023-24)
Don Janke, Library Assistant (Volunteer)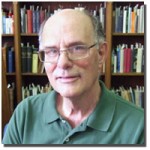 Don Janke is a supporter of the Kierkegaard Library who has spent the past 20+ years working as both a staff and volunteer member.
Bailey Kinsky, Conservation Consultant
Bailey Kinsky is conservator and owner of Valkyrie Conservation. She earned her M.A. degree with a Certificate of Advanced Study in Art Conservation at SUNY Buffalo State College, and she works to preserve as much of the historical integrity of a book while still allowing it to function as a readable material.
Troy Wellington Smith, Special Consultant for the Rare Book Collection (volunteer)
Troy Wellington Smith holds a Master's of Library Science degree from Clarion University of Pennsylvania and a Master's in English literature from the University of Mississippi, where he defended a thesis entitled "Kierkegaard and Byron: Disability, Irony, and the Undead."