MATERIALS AND RESOURCES
As a special collections library, books must stay inside the library. Prior to leaving the Library, books should be placed on the marked windowsill in the main reading room or the counter in the round-table study corner for the Library staff to re-shelve. Please do not reshelve the books yourself.
Due to a large number of visiting scholars during the summer, offices within the Library cannot be reserved for individual use. Any open seats or unused offices are available on a first come, first serve basis. Offices left unattended will be considered available for the next scholar.  During the academic year, scholars typically have their own office.  Kierkegaard House Foundation Fellows keep their office for the entire time of their position.
—– MAIN ROOM —–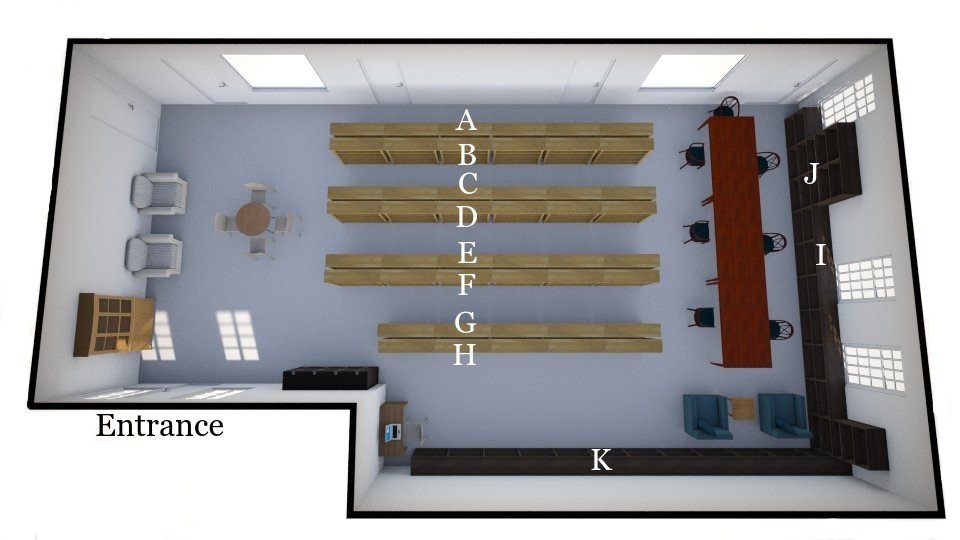 The Main Room of the Hong Kierkegaard library is divided into three main sections:
The Kierk 1 section houses primary sources in all languages (i.e. Kierkegaard as author).
Kierk 2 contains hundreds of critical materials with substantial sections about Kierkegaard.
The Related Thinkers (Rel. Th.) section offers materials by and about related thinkers, including contemporaries of Kierkegaard, thinkers who influenced his thought, and later thinkers who were affected by Kierkegaard's ideas.
Sections of the Main Room
A – Kierk 1 (Primary Sources)
B – Kierk 1 (Primary Sources) and Kierk 2 (Philosophy (General))
C – Kierk 2 (Existentialism, Sartre, Buber, Heidegger, International Kierkegaard Commentary, Kierkegaard Research: Sources, Reception, and Resources)
D – Kierk 2 (Logic, Speculative Philosophy, Psychology, Aesthetics, Ethics, Religion, Christianity, Bible, Theology, Christian Denominations)
E – Kierk 2 (Kierkegaard & Christianity, History, Northern Europe & Denmark, Sociology, Political Science, Education, Literature, Romantic literature, English Literature) and Rel. Th. (German literature, Physics, Psychiatry & Psychoanalysis, Bibliographies)
F – Rel. Th. (Literature, French/Italian/Spanish/Portugeuse literature, English & American Literature, German/Dutch/Danish/Scandinavian literature)
G – Rel. Th. (Practical Theology, Denominations, History of Civilization, History (General), Germany, Northern Europe/Scandinavia, Sociology (General), Political Theory, Education, Literature on Music, Fine Arts, Philology/Linguistics, Greek Language & Literature)
H – Rel. Th. (Psychology, Aesthetics, Ethics, Religions, Judaism, Christianity, Bible, Doctrinal Theology)
I  – Rel. Th. (Philosophy (General))
J –  Hong Translations of Kierkegaard
K – Re. Th. (Philosophy (General), Logic, Speculative Philosophy, Psychology
—– REFERENCE ROOM —–

The Reference Room of the Hong Kierkegaard Library contains dictionaries, thesauri, lexicons, and other reference materials in many different languages, including German, Danish, Latin, Greek, Russian, and Japanese. There are also several shelves of duplicate copies of materials housed in the Main Room of the Kierkegaard Library.
Sections of the Reference Room
A – Duplicate Copies (indicated by the call numbers, which match the copies in the Main Room, followed by "copy 2")
B – Duplicate Copies
C – Duplicate Copies, Encyclopediae
D – General Philosophy Reference
E – Kierkegaard Reference, Aesthetics, Ethics, Religion & Philosophy of Religion, Mythology, Christianity & Christian Thought, The Bible
F – Christian Thought, History of Civilization, Danish Encyclopediae
G – Greek/English Lexicons, Latin Dictionaries, Dictionaries (Romance Languages), Danish
H – Danish Lexicons, English Dictionaries
I – English Thesauri, Dictionaries (German, Russian, Japanese, Others), Literature (Various Languages)
J – Books (General), Library Science, Danish Book Lists
K – Periodicals
Danish Yearbook of Philosophy, Historisk Archiv: Et Maanedsskrift for Populaere Skildringer af Historiske Personer og Beginheder, Kierkegaard Studies Yearbook
L – Periodicals
Kierkegaardiana, Liselundbogen, The Reed, Soren Kierkegaard Newsletter
M – Article Files
Original and copied articles arranged by author with local title and subject access for most titles. Includes articles about Kierkegaard and Kierkegaard studies, book reviews, some lectures, etc.
N – Newspaper Article Files
Danish newspapers from the past 40 years; articles in the popular press about Kierkegaard, reviews of books, etc.
Note: Please do not take out entire folders; for articles that you do take out of the folder, sign them out so we can keep track of their circulation. Please allow student worker to reshelve articles.
—– RARE BOOK ROOM —–
Scholars wishing to use materials from the Rare Book Room, home to the Library's materials published before 1856 and other rare or fragile materials, should contact one of the Library staff. These titles must be signed both in and out and MUST NOT leave the confines of the Library for any reason. Materials taken from the Rare Book Room must be used on the table in the Reference Room or on the circular table in the circular-table study room. There are special requirements when using the materials that will be communicated when the request is made. Flash photography and any sort of scanning of the Rare Book Room materials will only be permitted upon special request. Scholars may not take the Rare Book Room materials into an unattended office.
ARTICLE COLLECTIONS
Our collection contains periodical articles, lectures, and other sensitive documents. The Library article collection is located in the file cabinets inside the reference room. Please sign up on the sheet before taking articles out and remain inside the Library when you use them. These materials can be returned to the marked windowsill in the main reading room or the counter in the circular-table room for our staff to re-shelve. Please see the Library staff for more details.
KIERKEGAARD LIBRARY ARCHIVES
Our archive includes materials related to the biographies and work of Kierkegaard scholars. The Library archives include Howard and Edna Hong and other notable Kierkegaard scholars, the history of the Kierkegaard Library at St. Olaf College, and the history of Kierkegaard studies worldwide.
ONLINE RESOURCES AND LOCAL LIBRARIES
The Kierkegaard Library has access to several online databases that allow scholars to locate additional materials and resources. Our online resources.
Access to indexes are available through Catalyst for the St. Olaf libraries or through our interlibrary loan. Electronic journal databases (such as JSTOR) are available to patrons of the Kierkegaard Library with some materials available in full-text.
A helpful reference is the Websites for Philosophy that is maintained by the St. Olaf Libraries.
The Kierkegaard Library also maintains a master list of online Danish resources and related sites.
Scholars are very welcome to use the Rolvaag Memorial Library, the main library of St. Olaf College, as well as the Halvorson Music Library. Your St. Olaf ID card will allow you to borrow materials from all of the on-campus libraries. Rolvaag's holdings include some Kierkegaard studies materials and other significant theological and philosophical works.
Your St. Olaf ID card also enables you to borrow materials from the Laurence McKinley Gould Library at Carleton College, located a short 30-minute walk into downtown Northfield, which also holds some Kierkegaard studies resources. In addition, the Northfield Public Library located in the center of Northfield is also available for your use, with the acquisition of a free Northfield Public Library card.