INTERDISIPLINARY RESEARCH
Because of the Hong Kierkegaard Library's international prominence, the collection hosts an increasingly diverse community of scholars. In the past several years, scholars from six continents have called the Library home. Their fields have varied greatly, ranging from postcolonial studies to epistemology to translation work. The collection's resources and organization allow for the existence of a diverse group of scholars who gather to further their academic research and meaningfully engage with other scholars.
With 20,000 book volumes, periodical and newspaper articles, and archival materials, the collection proves a valuable resource center for research in areas in philosophy and religion, but inevitably crosses disciplines in all areas of study. The Library welcomes all learners and encourages both scholars and students alike to utilize our collection.
To get to the Kierkegaard Library, go to the main entrance of Rolvaag Library, look to your right, go down the stairs, take a left, and we are at the end of the hall. The Library's collection serves students, scholars and anyone interested in the writings of Søren Kierkegaard, our 19th-century Danish philosopher.
CONNECT WITH KIERKEGAARD SCHolars
The Hong Kierkegaard Library is proud of its commitment to hosting and promoting international scholarship. The Library hosts anywhere from 45–70 scholars, both international and national, each year. While the majority of the scholars come in June and July, some choose to research in the Library throughout the year.
As the scholars come from places all over the world, we encourage St. Olaf faculty and staff to spend time with our visitors. Whether it be of a professional nature, or simply taking them to a Twins game, the interaction will prove to be most rewarding.
The Kierkegaard House Foundation Fellows study either as pre-doctorate or post-doctorate scholars and typically spend an entire year on-campus studying, writing, and publishing materials.
The Summer Fellows spend the months of June, July, and August at the Hong Kierkegaard Library. These scholars reside in on-campus housing and come from all around the world and a wide range of backgrounds.
For specific information or to schedule a time to meet, please contact Eileen Shimota at shimota@stolaf.edu.
ONLINE REFERENCE MATERIALS
In addition to the books and other materials housed by the Hong Kierkegaard Library, online resources can be found below. There are. . .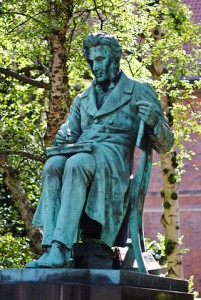 Organizations dedicated to unraveling Kierkegaard's existentialism. . .
Publishers of Kierkegaard text and studies. . .
Danish websites with useful resources. . .
Informational websites online. . .
And countless booksellers with an interest in Kierkegaard.