Welcome Our Newest Faculty Members!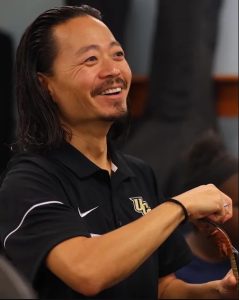 Conductor and music educator Dr. Chung Park joins St. Olaf as the new conductor of the St. Olaf Orchestra, succeeding Steven Amundson who retired in June after leading the ensemble for 40 years. Along with conducting the orchestra, Dr. Park will join the St. Olaf Music Department as a member of the upper string faculty.
Dr. Park comes to St. Olaf College most recently from the University of Central Florida, where he served as conductor of the UCF Symphony and Chamber Orchestras, head of string music education, and instructor of viola.
Dr. Michael Buck comes to St. Olaf as Norseman Band conductor.  A music educator for more than twenty-five years, Dr. Buck has taught band, orchestra, classroom music, church choir and adult community choir. Previously, Dr. Buck served as Associate Professor of Music and Director of Bands at The College of St. Scholastica and at Augsburg College in Minneapolis. He holds degrees from St. Olaf College, VanderCook College and The University of Southern Mississippi.
A lifelong learner, Dr. Buck especially enjoys conducting, research, and teaching future teachers. He is in demand as a clinician and frequently presents music education workshops locally, nationally and internationally.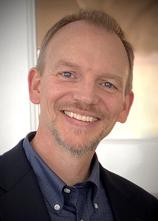 Jerry Elsbernd is joining the Music Department as a voice instructor this year.  He is an accomplished professional solo vocalist, masterclass instructor, contest adjudicator and choral director, and draws on a wealth of experiences and perspectives to aid his students in the development and growth of their voices. Jerry has served as an adjunct professor of voice at Concordia University and University of Northwestern, St. Paul.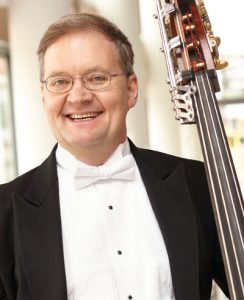 David Williamson joins the St. Olaf music faculty this year as associate professor of string bass performance, stepping into the shoes of retired bass faculty Connie Martin and Paul Ousley.  He has been a member of the Minnesota Orchestra since 1986, and has also served as principal bass of the Oregon Bach Festival since 2001. In 2019 and 2022, he went to Cuba as the bass teacher for the newly-formed Cuban American Youth Orchestra.
A native of St. Paul, Williamson earned a bachelor's degree from the Curtis Institute of Music in Philadelphia, studying with Roger Scott. He previously attended the University of Minnesota and Indiana University. Outside of Orchestra Hall, he is an avid hockey player and can often be seen canoeing on Minnesota's lakes.
Soprano Shari M. Speer joins the St. Olaf Faculty this fall, bringing her extensive singing, teaching, and conducting skills to the Music Department, where she will teach voice and Lyric Diction. An active Twin Cities performer and conductor, Shari is a long-time section leader with the Minnesota Chorale and Soprano Soloist/Assistant Director of Music at Hennepin Avenue United Methodist Church in Minneapolis.
Prof. Speer has previously taught on the voice and choral faculties of Concordia University Saint Paul, Gustavus Adolphus College, Luther College, Augustana College (Rock Island, IL) and Westminster Conservatory (Princeton, NJ). Prof. Speer holds a BME in Music Education (Augustana College), MM in Voice Performance and Pedagogy (Westminster Choir College, Princeton, NJ), with post-Baccalaureate work in voice at the University of Minnesota.  In moments of leisure, Shari enjoys singing chamber music, traveling, kayaking, hiking, cooking, reading, discovering labyrinths, and experimental gardening.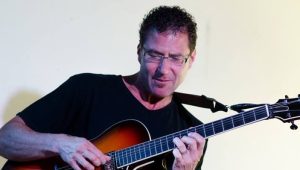 Chris Olson will be teaching History of Jazz at St. Olaf this year.  Prof. Olson is a freelance guitarist in the Twin Cities, performing varied styles of music with ensembles of all sizes.  As a member of the JazzMN Orchestra, Chris has had an opportunity to perform with such artists as Randy Brecker, Wycliffe Gordon, and Maria Schneider. He has performed at the Icehouse with several groups, including the trio, Framework, which has been around for over 20 years. His solo guitar, as well as duos with numerous instrumentalist and vocalists, can be heard at venues all around the state, and beyond.  After being musically educated at the Universities of Minnesota-Duluth, Wisconsin-Stevens Point, and North Texas, Prof. Olson has taught at several settings throughout the Midwest.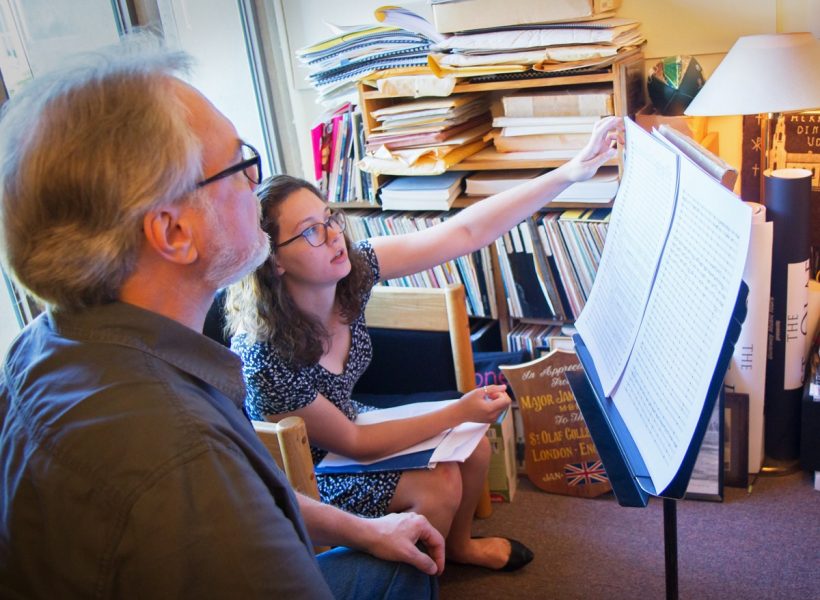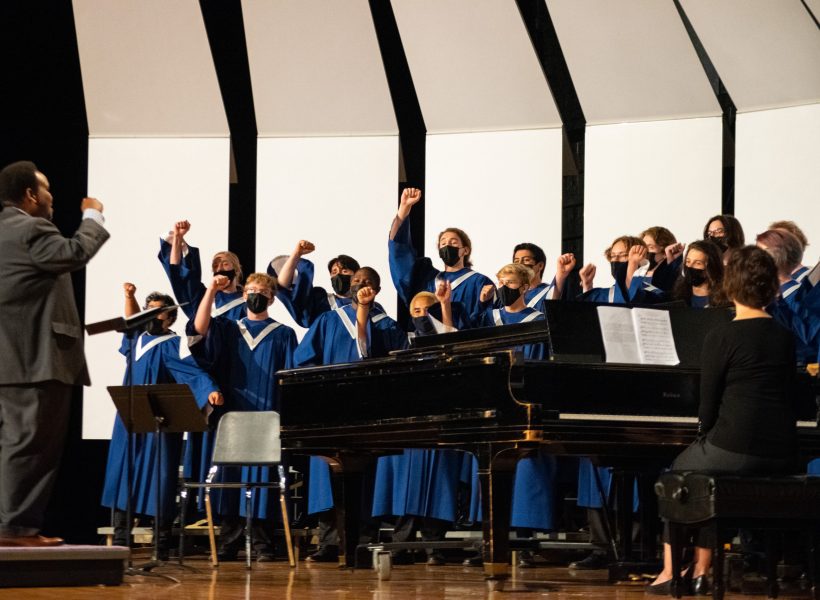 Ensembles at St Olaf
St Olaf is well known for their award-winning ensembles. With seven choirs, two orchestras, two concert bands, three jazz bands, and a variety of chamber ensembles, there is a place for everyone to find a musical home.
Ensembles at St Olaf
Music Performance Studies
Our Music Performance Faculty are second to none. We offer a wide selection of voice and instrumental lessons for anyone to study.
Music Performance Studies
Future Ole Musicians
Are you interested in being a Future Ole Musician? You will find all you need to know on how to begin the application process to music scholarships and deadlines.
Future Ole Musician Information
Current Ole Musicians
Are you currently an Ole musician? Here's where to find all things you need in the Music Department including calendars, forms, degree information, recital information and more.
Are you new to St. Olaf this year?  Here's a page with information to get you started!
Current Ole Musicians
St. Olaf Music Department Response to Racial Injustice and Systemic Racism
We, the faculty and staff of the St. Olaf College Music Department, condemn the murder of George Floyd, just 40 miles from our campus, and the countless acts of violence against Black bodies across the United States that have continued over the centuries to this day. We recognize that these acts represent but a small portion of the physical and verbal racism our Black colleagues, students, alumni, and fellow musicians face daily. We join voices with people of all races and creeds around the world protesting injustice. With them, we call for the end of racist law enforcement practices and of systemic racism, prejudice, and violence in all forms.
While we acknowledge efforts of the past, we recognize that St. Olaf College and the St. Olaf Music Department have failed to provide an environment in which all students, staff, and faculty of color thrive. We are dealing with systemic failings, masked by the prevailing campus culture at St. Olaf, a culture defined by centering Whiteness. We live and work in a society permeated by racism, anti-Blackness, and the marginalization and erasure of the lives, work, and voices of Black, Brown, and Indigenous People. We must engage in anti-racist action to further the cause of equity for all. We are determined to do the individual and collective work necessary to create more equitable, more inclusive, and more culturally-relevant learning environments for our students.
We commit to investigating and interrogating the role of white supremacy in our departmental, collegiate, and national history.

We commit to examining our pedagogies, the cultural practices of our department, and those of the college, to recognize and end those that inflict violence against Black bodies and create an inequitable environment at St. Olaf.

We commit to developing and implementing anti-racist, culturally inclusive pedagogies and policies that foster the liberation and self-actualization of our students through music.

We commit to working with our students to help them understand their responsibility in being active participants in this work.
As musicians, we are trained to listen.
We will be listening intently for voices that have been silenced and muted.
Black Lives Matter.