Music Department Special Events 2023-2024
Here's what's coming up…..
We're making plans for these special musical guests during the 2023-2024.  Check the Music Department calendar for dates and details.
Gibb Street Duo
Guest Recital
Sun Min Kim (piano) and Hilary Glen (cello) joined forces during the height of the pandemic, forming the Gibbs Street Duo, an ensemble that demonstrates the power and relevance of music as a catalyst for change
Hilary Glen, cellist, has collaborated with musicians including Gil Shaham, Gary Hoffman, Yefim Bronfman, and The Who. Formerly a cellist with the New World Symphony, Glen currently performs as the Assistant Principal in the Atlanta Opera Orchestra, Principal of the Columbus Symphony Orchestra in Georgia, and is a section member of the Atlanta Ballet Orchestra and the Des Moines Metro Opera.  She is currently adjunct faculty at the Indiana University Jacobs School of Music and teaches at her own private studio. She completed her B.M. at Indiana University, studying under Janos Starker. She earned her M.M. and D.M.A. studying under Alan Harris at the Eastman School of Music.
South Korean pianist Sun Min Kim serves as Coordinator of Keyboard Studies and Assistant Professor of Music at Denison University. He made his debut with the Ulsan Symphony Orchestra at age 13, performing Grieg's Piano Concerto. As a laureate of various awards, he debuted at Carnegie Hall's Weill Recital Hall, Merkin Concert Hall, and other prestigious venues across the United States and abroad.  Kim completed the Doctor of Musical Arts degree in Piano Performance and Literature with a minor in Collaborative Piano at the Eastman School of Music, where he studied with and served as teaching assistant for Nelita True.
– Information from https://www.navonarecords.com
Miguel Espinoza Flamenco
Guest Recital
Miguel Espinoza Fusion, the collective beating heart of world-class musicians Miguel Espinoza (guitar), Dianne Betkowski (cello), and Randy Hoepker (bass) invites the listener into a rich and colorful symposium of musical traditions. Firm roots in flamenco, classical, and jazz are woven through with North African rhythms, Celtic whimsy, and Brazilian expressions for a sound that is transformative, vibrant, and deeply emotive. Their third album, Living in a Daydream (2022), features extensive collaborations with two-time Grammy winner Howard Levy, and their fourth album, Gabriella, again features the collaborative efforts of Howard Levy, as well as fellow two-time Grammy winner David Balakrishnan, of the Turtle Island Quartet.
Miguel Espinoza Fusion are the 2019 winners of Denver Westword Magazine's Best of World Music, and their albums, Turtle Dreams and Veneta, have won Indie Acoustic Project awards. Veneta ranks #9 of the Top 200 World Music Albums of 2022 and was #11 on the Top 20 2022 NACC World Charts for 16 weeks.
Greg Banaszak (Saxophone)
Guest Recital
Greg Banaszak serves on the faculties of the Cleveland Institute of Music, and Case Western Reserve University and is the Artistic Director at Lutheran West. He has performed as saxophonist for the Cleveland Orchestra.  Mr. Banaszak is a B.M. cum laude graduate of the Hartt School of Music. He holds an M.M. degree "with distinction" from the Chopin Academy of Music in Warsaw and an Artist Diploma from the Centre Musical d'Annecy in France. He cites his successful career on having studied with such prominent masters as Vincent Abato, Daniel Deffayet and jazz legend Jackie McLean, as well as David Pituch, and David Schiavone.
Boston Piano Trio
Guest Recital
Violinist Irina Muresanu, cellist Jonah Ellsworth, and pianist Heng-Jin Park each have distinguished careers as soloist, recitalist, chamber musician, and have appeared with major orchestras and premier music festivals throughout the United States and Europe.  Ms. Park, the founder of the Boston Trio and founder and Artistic Director of Halcyon Music Festival, made her solo debut with the Boston Pops at the age of 15. Ms. Muresanu, who has appeared as soloist and chamber music throughout the United States, Europe and Asia, is the recipient of top prizes at the Montreal International Competition and the Washington International competition. Cellist Mr. Ellsworth has performed as soloist with the Boston Symphony, Akron Symphony, Boston Philharmonic, Jacksonville Symphony, Johnstown Symphony, as well as appearances at Verbier and Marlboro music festivals.  The Boston Trio's individual members serve on the faculties of the New England Conservatory, the University of Maryland, and the Massachusetts Institute of Technology, and are in demand as master class teachers throughout the United States, Asia and Europe.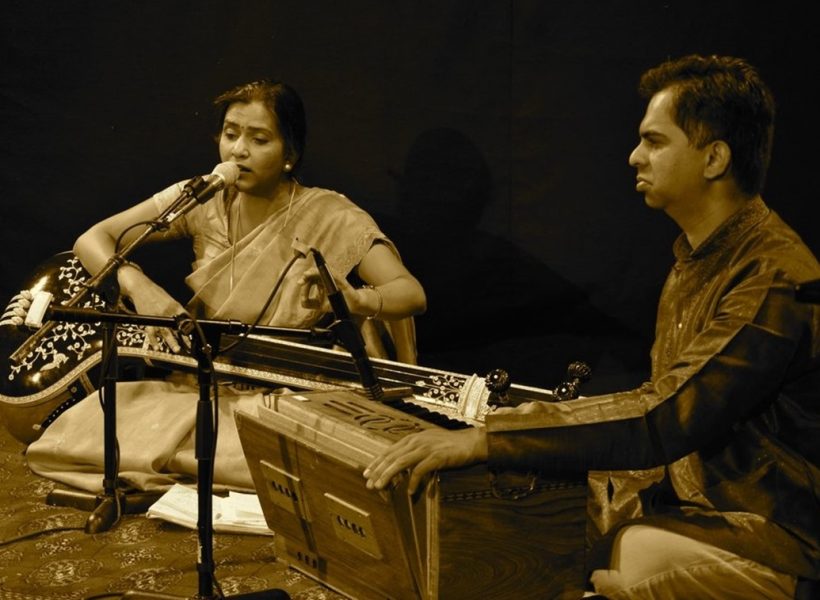 Pooja Goswami Pavan (vocals) and artist A. Pavan (tabla)
Guest Recital
Dr. Pooja Goswami Pavan is a Minneapolis, MN based performer, composer, teacher and scholar of Hindustani (North Indian classical) music. She was born in a musical family and received her early training in Hindustani classical vocal music from her father Sri. Surendra Goswami. Currently she receives training in Khayal from her elder brother Dr. Shailendra Goswami. Pooja received a Ph.D. in Music from the University of Delhi in 2005 for her thesis on the life and music of Pandit Amarnath, who was one of the prime disciples of the iconic Ustad Amir Khan.  An active composer, she frequently collaborates with many leading music, dance and theater organizations. Pooja has also been an adjunct faculty member at the School of Music, University of Minnesota, Minneapolis, and Macalester College, St. Paul, where she has taught courses in Indian music and culture since 2006.
Dr. A. Pavan, Ph.D., based in the Twin Cities area of Minnesota, is a Tabla player and teacher. He initially trained in Tabla under Sri G. Laxmiah and has studied with several masters over the years. He presently trains with Sri Rajendra Nakod and Ustad Shabbir Nisar, the illustrious son and disciple of the Tabla legend Ustad Shaik Dawood Khan. He has performed for Katha Dance Theater, Pangea World Theater, and Indian Music Society of Minnesota (IMSOM) in several productions and concerts. Pavan also appears on recordings of world/fusion music with many Minnesota based artists.