Fire Sermon
By Jamie Quatro
Grove Press, 2018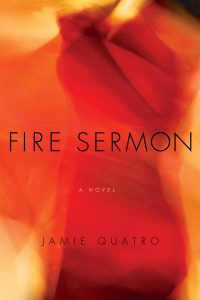 I picked this novel off the new book shelf at Rolvaag Library not knowing anything about it or its author. I'm glad that I did.
Fire Sermon takes you intimately into the mind and heart of Maggie Ellman, a writer, a wife, a mother, and a Christian, who falls in love with another man. It's about how she tries to come to terms with all of the tensions that you can imagine arise from her situation. There is guilt, obviously, not only for having betrayed her husband but also for having sinned. There is fear of losing her connection with her family. But there is also a deep and powerful longing for James Abbot, the poet with whom she is in love.
This could have been a soap opera instead of a novel, but it isn't, because Jamie Quatro embeds Maggie's spiritual turmoil in a profound background of Christian theology and literary allusion that elevates her novel above tawdry infidelity, producing a deep and provocative meditation on the heart and the head, our spiritual yearnings and our bodily longings, our responsibilities and our urges.
Quatro writes clear, disciplined, taut prose that is a pleasure to read.
This novel won't make you comfortable, but it will make you wiser.