Like to Die
By David Housewright
Minotaur Books, 2018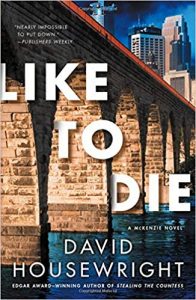 David Housewright, the author of twenty previous novels, is a Minnesota crime fiction writer, author of the novels featuring Rushmore McKenzie. Like to Die is the fifteenth McKenzie novel, and it's a good one.
McKenzie was a homicide detective in St. Paul until he became rich by accepting a multimillion dollar reward for catching an embezzler. Now, he has the luxury of doing "favors" for friends who find themselves in trouble. (There's a whiff of John Sandford's Lucas Davenport here. Lucas was also a detective, though in Minneapolis, who became rich by inventing a computer game. The difference is that Davenport stays in law enforcement, going from the Minneapolis police department to the BCA to, in the most recent novels, the U.S. Marshals service.)
The friend in this case is Erin Peterson, aka "Salsa Girl," so-called because she started a company that makes salsa. It's a huge success and all is well until she starts experiencing what looks like industrial sabotage at her salsa-making plant. It turns out that it's not industrial sabotage: it something worse, and it's not about the salsa. It's another matter entirely, that takes McKenzie deep into Peterson's past, gets him in trouble with the Chicago mob, gets him threatened, beaten up, and held hostage, and even endangers his lover, Nina.
Housewright is great at providing local color, so Minnesotans will recognize many of the places in this novel, from sites in St. Paul to places along a road trip McKenzie takes down highway 61 through Hastings, Red Wing, and Wabasha.
This isn't a "cozy"—detective novels with people having tea with vicars and wearing shawls against the cold. I can't stand those. But it's also not what I'd call a tough guy novel. People point guns at each other, and there is some physical violence, but it's mainly the detective's intelligence and persistence—not a bunch of bloodshed—that solves the crime. Like John Sandford, Housewright is good a writing the kind of dialog consisting of the sort of persiflage that guys throw around with each other. I recommend it.