The Shades
By Evgenia Citkowitz
W.W. Norton and Company, 2018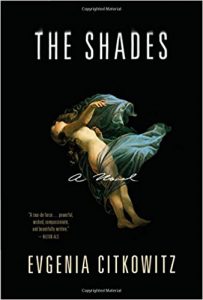 This is a tightly written, intimate novel about complicated people, who form a complicated family, endure a tragedy, and come out at the other end. But we're not sure (or at least I'm not), how well they finally do.
I call it an "intimate" novel because you spend so much of your time inside the
character's heads as the narrator shifts perspective from Catherine Hall, an art dealer to her husband Michael, a high-end real estate agent, to their inscrutable son Rowan, away at a boarding school. They should talk more frequently and candidly to one another, a fact that is heightened by the way we hear from each of them individually but rarely in conversation together.
The Shades opens at the scene of an accident. Someone has fallen off the roof of a house and died. The rest of the novel shows us how we got there. We got there through a marriage that has slowly lost its juice, through the death of a child, through guilt, through the arrival of a new and at first intriguing but eventually menacing person, and through discovery of a previously unknown past. It's a psychological thriller. You'll like it.