So Brave, Young, and Handsome
By Leif Enger
Atlantic Monthly Press, 2018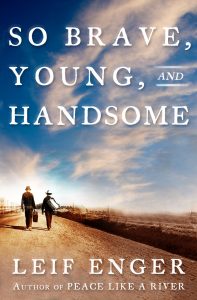 I'm reading the novels of Leif Enger in reverse order—not by design but simply because I picked up his most recent one, Virgil Wander, first.
So Brave, Young, and Handsome, like Virgil Wander, is the story of a man who is stuck. His name is Monte Becket, self-described as "a man fading, a disappointer of persons." Becket wrote one very successful short novel, but he has since lost his mojo. His attempts at new fiction all fall flat. He can't bring himself to admit this fact out loud or to confess it to his wife, who believes he is busy working on another great novel. He's stuck.
Also as in Virgil Wander, the event that precipitates the process by which the narrator get unstuck is the arrival of an older man with white hair and a magical quality.  In this case it's Glendon Hale, an ex-train robber, now a builder of boats, who enters the novel and Becket's life by emerging from the fog over the Cannon River in Northfield in a boat that he rows standing up.
Virgil Wander gets unstuck while staying at home. Monte Becket gets unstuck by wandering. (Maybe he should have been called Monte Wander and Virgil should have been named Virgil Becket.) In any event, Glendon Hale persuades Becket to accompany him on a journey to California to find Blue, the wife he abandoned many years ago.
Though he's since given up train robbing and become a boat builder, Glendon has a criminal past, and a complication of their picaresque journey west comes in the form of an ex-Pinkerton agent who has been pursuing Glendon for years, hoping to bring him to justice. When you're traveling with an ex-criminal who is evading pursuit, you are likely to find yourself facing some ethically challenging choices, and that's what happens to Becket, but I don't think it's those moments that get him unstuck.  Rather, it's experiencing the authenticity of the characters they encounter on their journey. They exhibit the passion, the commitment, the sense of purpose, the comfortable-in-their-own-skinness that Becket lacks.
Leif Enger seems to want to write about people who are stuck and who get unstuck. In Glendon's case that means an unusual form of redemption; in Becket's case it's a renewed sense of purpose. It's a sweet ending to an exotic journey.