The Maze at Windermere: A Novel
By Gregory Blake Smith
Viking, 2018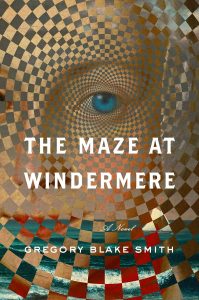 This novel is a tour de force.  It tells five different stories set in five different time periods but all located in Newport, Rhode Island. One strand, set in 2011, follows Sandy Alison, a retired professional tennis player, who falls in love with a complicated heiress and learns a lot about himself.  The next, set in 1896, follows Franklin Drexel, a scheming dilettante who is strategizing a way to marry a rich young widow. The next, set in 1863, follows the young Henry James who meets and develops an attachment to an engaging young woman that ends badly. The next, set in 1778 follows a British Army officer who gives new meaning to the word "cad." And, finally, Prudence Selwyn, an orphaned fifteen-year old Quaker girl, struggles to make her way alone in the world.
If this sounds like a lot for the reader to absorb, it is, especially at the beginning of the novel.  But you soon get oriented as the narrative weaves its way back and forth among the five stories. It helps that they are all stories in one way or another about love, courtship, sexual desire, and the complications that arise from those potent motivators. Smith does an absolutely brilliant job of creating a unified narrative with so many moving parts around one basic theme.
The shadow of Henry James looms large over this entire novel, and not just in those parts of it that imagine James himself and his encounter with Miss Taylor. It would be fun to read Portrait of a Lady or at least Daisy Miller alongside of The Maze at Windermere.
Windermere in the novel is one of mansions in Newport that fronts the ocean, and it has a maze. Characters in the novel find themselves in metaphorical mazes: of evil intent, of gender ambiguity, of passion, of self-doubt. Young Prudence, the Quaker girl, seems to be the one who emerges from the maze with the clearest vision for her life.
Read The Maze at Windermere slowly. Admire the artistry, enjoy the settings, and appreciate the complications and quandaries we create for ourselves when desire meets reality.