Lady with a Brooch Violinist Eva Mudocci: a Biography and a Detective Story
By Rima Shore
Scrivana Press, 2019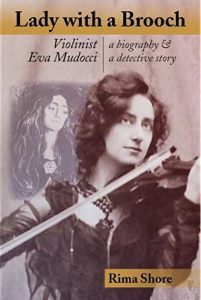 Eva Mudocci (born in England in 1872 as Rose Lynton) died in 1952 after an extraordinary life. I have had dinner with her every night for the past several years, because an unfinished portrait of her, attributed to the Norwegian artist Edvard Munch and now in the collection of the Flaten Art Museum at St. Olaf, has hung in the dining room at the President's house.
That is, until Rima Shore's research into Mudocci's life led to a re-examination of the painting, new information about its provenance, and a renewed confidence that this is, indeed the work of Munch. It now resides in a much more secure place!
Mudocci, a violinist, was a child prodigy who took to the stage at an early age, performing regionally and nationally in England. Her path eventually took her to Europe, where she met a pianist named Bella Edwards, also born in England but raised in Denmark. The two of them lived and performed together throughout Europe for the next half decade. Based in the Left Bank of Paris, they were part of the rich cultural and artistic scene that included everyone from Gertrude Stein to Frederick Delius, to Henri Matisse, who executed an etching, two drypoints, and three drawings of her. Their circle included Edvard Munch.
Theirs was an intimate relationship, and most people assumed that it was a lesbian relationship. One of those observers was Jappe Nilssen, a Norwegian living in Paris whom Shore describes as "among Munch's oldest friends." Nilssen took it upon himself to be concerned about what he perceived as Bella Edwards's "hold" on Mudocci and wrote to Munch asking him to "pay attention to Eva, flirt with her a little, so that perhaps her feelings may become more natural."
What could go wrong with that plan? Munch and Mudocci did become acquainted and formed a long, intimate, and tortured relationship. Mudocci eventually gave birth to twins, a boy and a girl. Mudocci never named the father. Munch is reported to have died childless. Did he succeed with the task Nilssen gave him? Who fathered those twins?
Rima Shore's Lady with a Brooch answers that question, but that's not the only or even the main reason to read this book. It's a fascinating portrait of the artistic scene in early twentieth-century Europe, shedding light especially on the transition from late romanticism to early forms of modernism across the arts and to the impact on artists' lives and career of the two world wars, with particular emphasis on the challenges faced by women artists.
St. Olaf owes Shore a debt for refocusing attention on the unfinished painting that hung in the dining room of the President's house "attributed" to Edvard Munch. Now, we watch as the guardians of Munch's Catalogue Raisonné come to grips with her findings.