Professor Chandra Follows his Bliss
By Rajeev Balasubramanyam
The Dial Press, 2019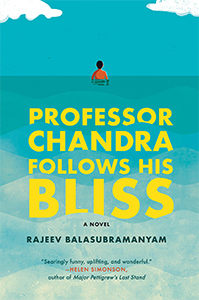 Professor Chandra is an eminent economist who holds a lifetime appointment at Cambridge University as the Clifford H. Doyle Professor. So far, so good.
But not, really. The novel opens with the Nobel Committee failing, again, to select him for the Nobel Prize in economics. That's a blow, but it's not the worst of his problems. He is divorced, he is estranged from one of his two daughters, his relationship with the other one is tense, at best, and his son keeps a wary distance from him in Hong Kong. To top it all off, the Master of his College, Gonville and Caius, has invited him for breakfast to suggest that Chandra may need "some time away," after he called one of his students "an imbecile" in class.
It's the classic beginning for a mid-life crisis novel, except that Professor Chandra is seventy years old. I guess some of us come late to the game.
Mid-life crisis novels usually begin with a protagonist in trouble, who is made to realize there's trouble by a Saul-on-the-road-to Tarsus moment. Professor Chandra's happens on the streets of Cambridge where he inadvertently steps in front of a cyclist. He gets clobbered, and for good measure, he experiences a "silent heart attack" as a result of the accident. Some time in the hospital provides him with opportunities for reflection.
Where should a stuffy, arrogant, unhappy (though he just realized it) economist go to get his life back on track, to get in touch with his feelings, to work on his relationships with his family? Where else but California! And not just California but where else than the Esalin Institute in Big Sur.
What follows is a compelling account of Professor Chandra's journey towards his "Bliss." You don't have to be into Zen or meditation or even California to appreciate the subtlety and nuance with which the author charts Professor Chandra's path toward his bliss. You also don't have to wear your heart on your sleeve to enjoy this novel, because it is full of very funny satire of many of our modern shibboleths, both in the academy and among those pursuing enlightenment.
It's a good read, and in the end, an uplifting tale.