The Club
By Takis Würger, trans. Charlotte Collins
Grove Press, 2019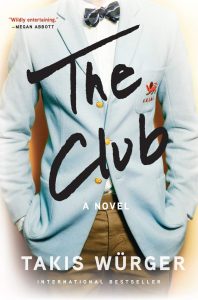 This is a compelling novel, first published in 2017 in German as Der Klub, about a disturbing subject.
Hans Stichler has never really fit in. As a boy who preferred sitting high in a tree to social interaction, he was bullied in school. Orphaned at an early age, and with no family to care for him, he was sent to a Catholic school, where he experienced more of the same. Until he took up boxing. The "sweet science" gave him an identity and purpose that was visible to others and eased his integration into social interaction.
Hans has an aunt who could have taken him in when he was orphaned, but for reasons he has never understood, did not. However, when he finishes school she secures a place for him at St. John's College, Cambridge. She is a professor at the university. That place is contingent upon his aunt's demand that he assist her in an investigation into the University's boxing club, the Pitt Club. "Your mission is to find out what the university boxers get up to there." Later, she adds, "It's about a crime, Hans. I need your help, because I have to solve a crime."
Her request is vague, strange and menacing, but Hans accepts, enters the university, joins the Pitt Club and then the trouble begins.
Imagine a young man who has grown up basically alone, does not come from wealth, is inexperienced at social interaction, and has this vague mission thrown in among other young men of wealth, brimming with experience and sophistication, luxuriating in social capital, and yet somehow under suspicion of a crime. Will Hans be seduced into this world of male power and privilege? Will he uncover a crime? Will he do the right thing? What is the right thing?
Read this great novel, and you will find out.