Death Angels
Ake Edwardson, 1997
translated by Ken Schubert, 2009
Penguin Books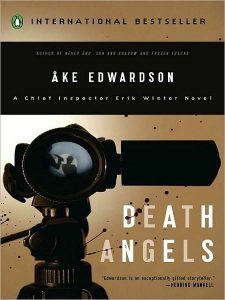 "Whatever direction he took, menace was his journey and his destination. He was alone, and he had no faith in anything." This sentence from the middle of Death Angels describes Chief Inspector Erik Winter's state of mind as he seeks to solve two horrific murders of young men, one in London and the other in Winter's hometown of Gothenburg, Sweden. It's commonplace to describe Nordic crime fiction is "dark," and you can tell by this sentence that Death Angels, the first of ten Erik Winter novels, is no exception.
Outwardly, Winter has it figured out. He is the youngest Chief Inspector in Sweden. Successful, handsome and wealthy, he has refined taste in food, jazz, clothing, and scotch whiskey. He is attractive to women and enjoys their company. Inwardly, the nature of his work—solving murders—means that he is haunted by vivid images of crime scenes, anguished by the experience of other people's pain, and numbed by the presence of evil everywhere he looks. In the closing scene of Death Angels, when you think he might be sipping a dram of Lagavulin and taking satisfaction from having solved the murders with which the novel opens, instead he's in Vasaplatsen Park in Gothenburg with his head in the lap of a Pastor who consults with the Police Department. "How are you doing, Erik?" she asks. "I'm making it. Tomorrow's another day and all that." The happiest note they achieve at the end of their conversation is that "it's getting warmer day by day." This put me in mind of the closing sentence of Jar City by the Icelandic crime writer Arnaldur Indridason. It's the most positive thing that happens in the novel:  "It stopped raining."
Death Angels is a spare novel. Think of the clean lines of Scandinavian furniture. A German reviewer called it "A fast, sleek, hard ballad." That's an apt description. Don't go to this novel for rich illumination of the inner life of its characters. Go to it for a detective determined to root out evil and willing to bear the cost to himself of that work.