Distinctive Collections Engagement Librarian, Jillian Sparks has developed several digital learning objects or tools for classes to explore. We invite you to browse this collection which includes introductions to book history featuring some of our oldest books and the Bodman-Lang East Asia Collection and curated examples of archival materials related to student life. Click on an image below to explore the digital learning object.
College Archives focused Teaching Tools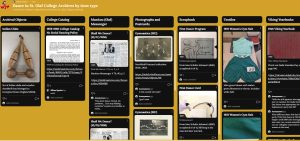 Dance history in St. Olaf College Archives
This small selection of archival items presents a glimpse at the history of dancing at St. Olaf. Arranged by item type, students in Dr. Caitlin Schmid's MUSIC 345: Listening to Dance Music explored this curated Padlet in a synchronous class session. Items range from photos of gymnastics teams to a dress worn at the first St. Olaf social dance.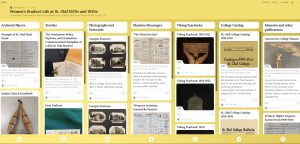 Women's Student Life at St. Olaf 1920s and 1930s
Curated by Student Associate for Exhibition and Instruction Support, Bre Teynor '24, this Padlet was used in Dr. Eric Fure-Slocom's HIST 188: Prosperity and Peril course. Students explored the past student experience of women at St. Olaf during the 1920s and 1930s including gym uniforms, scrapbooks, and reports on alumna careers. The purpose of this Padlet is to help bring awareness to the large variety of materials available through our archives and the many places that college history can be found.
Special Collections focused Teaching Tools