The Shaw-Olson Center for College History — also known as the College Archives — is one of three special collections housed in the second floor of the Rolvaag Memorial Library on the St. Olaf campus. The College Archives is a repository of historical materials relating to the founding and growth of the institution: correspondence, minutes, reports, publications, photographs, audio tapes, video tapes, artifacts and related materials. Principal donors have been administrators, faculty, staff, students and alumni of St. Olaf College.
The Archives was established in 1969. Mary E. Barbosa-Jerez serves as the Head of Strategy for Library Collections & Archives.
The Archives' collections currently occupy approximately 2,500 linear feet of shelf space. Materials are available for research by members of the St. Olaf community, visiting scholars and other Library patrons. Photocopying facilities are available.
Additional Materials
The Archives has in its possession the Registrar records for:
Red Wing Seminary, Red Wing, Minn.
Pleasant View Lutheran College, Ottawa, Ill.
Jewell Lutheran College, Jewell, Iowa
Naming of the Shaw-Olson Center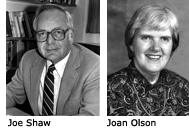 The College Archives were re-named on Founders' Day, Nov. 6, 2000, in honor of long-time archivist Joan Olson and religion professor emeritus and college historian Joseph Shaw.
Olson, informally known by many at St. Olaf as "Joan of Archives," was the first professional archivist employed by the college. She began work in the St. Olaf archives in 1969. She retired in 1998, and for many years served as archivist for St. John's Lutheran Church in Northfield, and the Northfield Historical Society. Olson earned a bachelor's degree from Bucknell and a master's degree from Cornell.  Olson passed away on Oct. 22, 2015.
Shaw served for two and a half years in the U.S. Navy during World War II before entering St. Olaf. He graduated in 1949; studied at the University of Oslo; earned a theology degree from Luther Theological Seminary in 1953; and earned a Ph.D. from Princeton Theological Seminary in 1958. He joined the St. Olaf faculty in 1957, teaching in the Religion Department until his retirement in 1991. Since then he has served as college historian and has written several studies of St. Olaf history. (For some of these, see Sources and Scripts.)