David Rose '89
Alumni Achievement Award recipient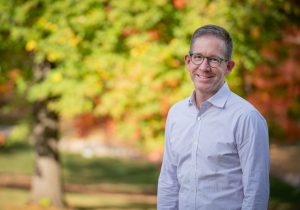 Tech entrepreneur David Rose of the Class of 1989 is an expert in digital product innovation for the Internet of things, inventing products that help millions of people every day. He holds a bachelor's degree in physics and studio art from St. Olaf and a master's of education from Harvard University.
Rose has invented new products for Fortune 500 companies, including an online vision testing business and a virtual try-on app for Warby Parker, as well as prototypes with emerging technologies for EPAM Continuum, such as computer vision and affective computing. He is the founder of five companies across the consumer electronics, health care, and social shopping industries, including Ambient Devices — the creator of the Ambient Orb, which changes color to represent information, such as weather forecasts, stock market trends, and energy consumption; the computer vision company Ditto Labs; and the healthcare company Vitality. His companies have also created products for digital photo sharing, interactive science museum exhibits, and smart toys like Guitar Hero and LEGO Mindstorms. His most recent venture is ClearWater AR, the first augmented reality experience for boating and fishing.
 Rose has authored two books, Enchanted Objects: Design, Human Desire, and the Internet of Things and SuperSight. He has taught at MIT's Media Lab, Harvard University's Graduate School of Design, Yale University's Graduate School of Design, and the Copenhagen Interaction Design Institute in Denmark. He holds five patents, and his inventions have been featured at the Museum of Modern Art, in the New York Times, Wired, and the Economist, and on The Daily Show with Jon Stewart.