Louise Matson '89
Alumni Achievement Award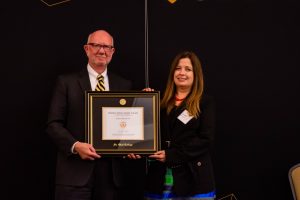 Louise Matson, a member of the White Earth Band Of Ojibwe, is the executive director of the Division of Indian Work. Established 70 years ago, the organization works to support and strengthen urban American Indian people through culturally based education, traditional healing approaches, and leadership development.
Matson is also a founding board member of Bdote Learning Center, a Dakota and Ojibwe Immersion School located in South Minneapolis. She is chair of the Phillips Indian Educators group, where she helps guide the implementation of a Memorandum of Agreement with the Minneapolis Public Schools Board of Directors to improve outcomes for their American Indian students. And she is vice chair of the Metropolitan Urban Indian Directors Council, a collaborative of over 25 American Indian organizations operating within the Twin Cities metropolitan area of Minnesota. In an interview with Minnesota Public Radio, Lt. Gov. Peggy Flanagan, who is currently the country's highest ranking Native woman elected to executive office, named Matson as one of the people who has helped shape her career and work.
After graduating from St. Olaf, Matson earned a teaching license from Concordia College. She founded and operated the first Boys & Girls Club located in a school in Minneapolis before joining the Division of Indian Work in 2002. She directed the organization's Youth Leadership Development Program before taking the role of executive director in 2014. Under her leadership, the Division of Indian Work separated from its founding organization in 2016, becoming an autonomous American Indian–led agency in 2018.
Matson served as a mentor for the Big Brothers Big Sisters mentoring network for over 10 years, and she was awarded Big Sister of the Year in 2004.  She was the lead advisor for the Native American Mentoring Initiative of the Big Brothers Big Sisters of the Greater Twin Cities from 2008 to 2013.