Kristen Rosdahl Ehresmann '84
Outstanding Service Award recipient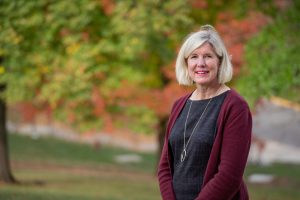 Epidemiologist Kristen Ehresmann of the Class of 1984 is director of the Infectious Disease Epidemiology, Prevention, and Control Division of the Minnesota Department of Health (MDH). She is responsible for its HIV/STD, tuberculosis, refugee health, and immunization programs, as well as its activities related to emerging infection and infection prevention and foodborne, waterborne, and zoonotic diseases. She and her team have assisted in the planning and coordination for the prevention, management, and mitigation of COVID-19.
Ehresmann is an adjunct faculty member at the University of Minnesota and previously taught at Metropolitan State University. She regularly discusses public health initiatives in statewide media and before the state legislature. Her research and publications have focused on vaccine-preventable disease in both children and adults. She is a recipient of MDH's Achievement Award and its Star Honors Award for Exceptional Leadership.
Ehresmann holds a bachelor of science degree in nursing from St. Olaf and a master's in public health in epidemiology from the University of Minnesota. She is a member of the Association of State and Territorial Health Officials Infectious Disease Policy Committee and the National Vaccine Advisory Committee and is a liaison member of the Healthcare Infection Control Practices Advisory Committee. She also is a voting member of the Council for Outbreak Response: Healthcare-Associated Infections and Antimicrobial-Resistant Pathogens.