Michael Solhaug '67
Outstanding Service Award recipient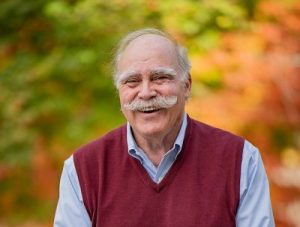 Dr. Michael Solhaug of the Class of 1967 has had a distinguished career in pediatric medicine as a clinician at Children's Hospital of the Kings Daughters (CHKD) in Norfolk, Virginia, and as an educator and administrator at Eastern Virginia Medical School (EVMS). As a Vietnam War veteran, he served on four Operation Smile medical missionary teams, providing corrective facial surgery to thousands of Vietnamese children, which promoted friendship and understanding between the two countries and transformed vets from soldiers to healers.
Solhaug earned a B.S. degree in biology and chemistry from St. Olaf while competing in hockey and football. He was inducted into the St. Olaf Athletic Hall of Fame in 2007. After graduation, Solhaug entered the U.S. Navy's Officer Candidate School, later leading a five-man Swift Boat patrol crew in Vietnam. He was awarded the Bronze Star with Combat V for valor and the Navy Commendation Medal for valor and meritorious service.
After the war, Solhaug earned an M.D. degree from the University of Minnesota. He began his career as a pediatric nephrologist in primary care and as a specialist at CHKD, where he founded the pediatric nephrology department to provide specialty care to children with acute and chronic kidney-related diseases. He currently is professor of physiology and professor of pediatrics at EVMS and vice chair of education in the Department of Physiological Sciences. He has also enjoyed serving in medical school admissions, with a passion for mentoring St. Olaf students as they prepare for medical school, including 15 Oles who have attended EVMS.