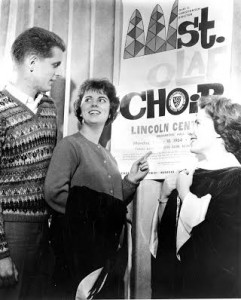 When asked, "How do you find America?" The Beatles' drummer Ringo Starr cheekily replied, "Turn left at Greenland." The world-famous band had landed in New York City for its highly anticipated Feb. 9, 1964, Sunday night TV appearance on the Ed Sullivan Show. Meanwhile, another world-renowned group was heading stage right to New York City as well–the vaunted St. Olaf Choir on its 24-day, 22-concert tour.
The 70-voice choir traveled on two chartered buses. The one containing Olaf Christiansen was dubbed "the morgue," because the choir director frowned on singing en route. Choir member Warren K. Olson '65 recalled, "Earlier that week on our way across Ohio, we had stopped somewhere, and four of us boys ran into a drug store for supplies. We looked windblown, and the girl behind the counter was convinced we were The Beatles."
On Friday, Feb. 7, The Beatles hunkered down on the 12th floor in the Barbizon Plaza Hotel, and on the following day, the Oles camped out across the street at the Park-Sheraton Hotel. Olson added, "We looked down from our hotel windows at the mayhem below. Crowds were building near the Plaza Hotel. Beatle Mania had taken New York City by storm. The world's first teeny-boppers had jam-packed the streets, and NYPD, outfitted in blue, was attempting to keep the crowds under control by foot and on horseback."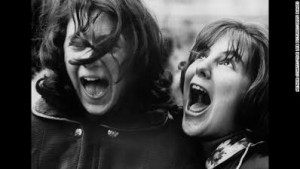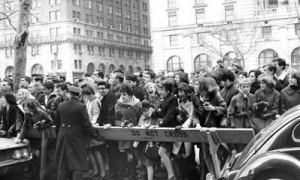 Choir member, Karen Anderson Aamot '65, recalled, "We had binoculars (opera glasses) and watched out our windows for any glimpse of them [The Beatles] looking out their windows or walking out onto a hotel balcony. As far as I knew, no choir members saw any of them." KarenChronquist Moesenthin '65 and a few other choir members walked past the Plaza Hotel and witnessed Beatle Mania first hand. "The crowd was fantastic. Some of the girls [fans] even got into boxes and had themselves delivered to The Beatles' rooms on the 12th floor!" she recalled.
Sunday afternoon the Choir gave a 3 p.m. concert at the Danbury High School, Danbury, Conn. With the evening free, Oles took in a variety of entertainment and by-and-large skipped watching The Beatles. The Minneapolis Tribune later noted in a headline: St. Olaf Coeds Bypass Beatles to Hear 'Otello.'
The now legendary TV event was viewed by an estimated 73 million people, roughly 40 percent of the entire U.S. population. On campus nearly 1,000 students gathered in dormitory lounges to listen to such hits as "All My Loving" and "I Want to Hold Your Hand." According to the Manitou Messenger, students en masse left the library at 7:50 p.m. in time to watch the show. Some students thought the library was on fire with so many leaving at once.
The Choir's sold-out performance on Monday night, Feb. 10, at Philharmonic Hall at Lincoln Center was highly praised. The New York Post for one said the group was "without peer among a cappella choruses in this country, probably in the world." As for The Beatles, not every critic was swayed. Newsweek Magazine stated, "Visually, they are a nightmare: tight, dandified, Edwardian/Beatnik suits and great pudding bowls of hair. Musically, they are a near-disaster. …The odds are they will fade away, as most adults confidently predict."