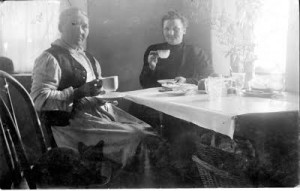 Real photo postcards found in the College Archives, such as the one above, occasionally contain some interesting notes from the senders. I recall one postcard written around 1910 by a kitchen staff member who groused about her long working hours; from sunrise to sunset laboring over three meals and dishes with little time to rest, not even for a cup of coffee. Her memorable final comment to her friend said it all, "And everyone is so darn Norwegian!"
Norwegian-American women actually originated the coffee break in 1880. According to the Stoughton, Wis., Chamber of Commerce website:
With the T.G. Mandt Wagon Co. going strong, it became necessary for tobacco firms to hire women for the seasonal tobacco steaming. The Gunderson Tobacco Warehouse…was ideal for hiring women because it was so near their homes and they could run home to check on the kids, the house and see how the next meal was progressing. With these chores done and a hot pot of coffee constantly on the stove, what was more natural than to have a cup?
It's only fitting that St. Olaf College, founded by Norwegian-Americans, has long embraced the coffee culture and continues to do so with the recent remodeling of the Cage. Stories from the Manitou Messenger provide a wonderful history as well:
Johan Aasgaard had five cups of coffee with her, and then took some on the side in the kitchen. He is a freshie (1894).
English Department Calculates it has Consumed Sixty-Five Tons of Coffee at its Weekly Meetings (1934).
Coffee Price Increase Threatens Heart of Social-Scholastic Life [from 5 to 10¢ per cup] (1949).
Students are Denied Coffee During Chapel (1968).
Peace Coffee in Cage Serves Fair Trade (2003).

A collection of eight unique sterling silver spoons, suitable for stirring coffee (Don't you just love alliteration), was recently donated to the College Archives by the family of Philip M. Nelson, Class 1914. One in particular is a souvenir most likely sold at the time of the dedication of old Mohn Hall (Nov. 6, 1912), the College's first modern-built dormitory for women.
A year earlier, a number of women staged a "protest" photograph (below) with the intent of illustrating to the Board of Trustees that Ladies' Hall overflowed with boarders and was inadequate as a dormitory. Like the sender of the postcard, there were certainly grounds for complaint, but best contemplated over a cup of brew yah! yah!