Nearly 130 years ago, a 16-year-old St. Olaf academy student climbed out on the roof of "the Main" (now known as Old Main). He left his mark on one of the slate shingles, inscribing "May 4, 82 Oscar Elserg Manitowoc, Wis." He was not the first, nor the last, to etch his name; although he might have felt rushed as he forgot the letters "b" and "e" in "Elseberg." (Reminds me of the time in May 1970 when students protesting the war in Vietnam spray-painted the St. Olaf rock but forgot the "t" in "strike.")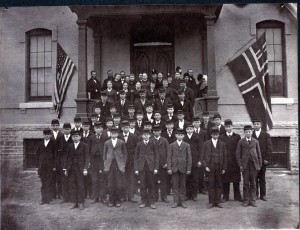 Student Body, 1879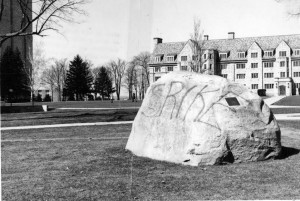 St. Olaf rock, 1970
In September 1878 students, faculty and staff moved into the newly built structure. Faculty and staff resided on the first floor of the campus' only building while male students occupied 16 dorm rooms on the third floor. (Female students lived off campus that year.) Within weeks of the Main's opening, a student inscribed, "G.I. Stacy Sep 30 1878." He was the first to leave his indelible mark, while townie "Dan Weed" was the last in 2004.
With the recent Old Main re-roofing project, Elseberg's slate as well as 42 others bearing inscriptions were saved for the College Archives. The slates testify to a century-plus of life's major events that have occurred under the Main's roof since 1878: births, baptisms, graduations, weddings and deaths. But they also withstood the elements including several tornadoes, countless hailstorms and lighting strikes. Even after the Main was transformed to house only classrooms in the early 1900s, students continued to find their way to the roof, not to be denied their lasting presence.
Of the 43 slates, every name identified was male; the majority was from the 1880s to 1930s. No names were dated between 1940 and the early 1970s. The etchings on selected slates tell an interesting story. "E. Rollefson" Class 1904, for example, carries the distinction of being the only student to have etched his name on two different shingles. "H.E. Huseth 1908" served as the first president of the newly adopted 1911 Honor System Committee. Others of note include simply "Justin was here" and "Indian."
Elseberg's slate was immediately noticed when it arrived on a chilly January morning. With sensitivity and artistic flair, his dove and banner are a far cry from the gauges and scratches rendered by his vandal brethren. With my finger I traced the image on the smooth, cold black stone, picturing Elseberg sitting on the roof, most likely at twilight to avoid being detected, perhaps etching with a nail.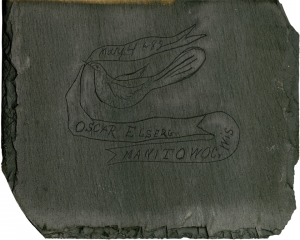 Matriculation records show Elseberg enrolled on Jan. 10, 1882, for the second term of St. Olaf's School's eighth academic year. He did not distinguish himself from the other 96 students that term, nor did he re-enroll for the following term in the fall. Census records indicate Elseberg never married, living an itinerant life as a restaurant clerk in Iowa and later a farm laborer in Indiana and Illinois. Little remains of his legacy, except at least one 7" x 14" roof slate, filed with the other immortal inscribers in an office cabinet file drawer.
A special thanks to the following campus members:
John Roberts, Carpenter, for working diligently with the re-roofing crew to secure the slate shingles; Janet Collrin, Multimedia Development Center Manager, and Jonathan Halquist, student, for their enthusiasm and assistance in enhancing the Elseberg slate image.