St. Olaf College's Christmas Festival was days away when news of the attack on Pearl Harbor came late Sunday afternoon, Dec. 7, 1941. Rehearsal was underway in the college auditorium/gymnasium (now Speech-Theater building), with a massed choir of 215 members and a 25-piece orchestra. They had begun the last verse of A Great and Mighty Wonder under the direction of F.M. Christiansen when the manager of music organizations, P.G. Schmidt, stopped the rehearsal to make the announcement of the tragic event.
One choir member recalled, "There was a moment of stunned silence, then I heard someone cry behind me to my left. I don't know who it was, but I was told she had a friend or family member stationed in Pearl Harbor."
Another member stated, "I remember him [Schmidt] saying that everything was about to change, but that we should go on quietly now about our daily tasks. How silently we exited that day; the snow falling softly."
As the news unfolded in the days ahead, first-year students, who were not allowed to have radios, listened in their counselors' rooms; others gathered in the basement of the Old Main at the campus bookstore to listen to manager Marty Fossum's radio. On Dec. 8 at 11:30 a.m. President Franklin D. Roosevelt addressed a joint session of Congress and the nation via radio. Students stood shoulder to shoulder in the bookstore and in its hallway, listening soberly to the declaration of war against Japan. All sales stopped and no one talked.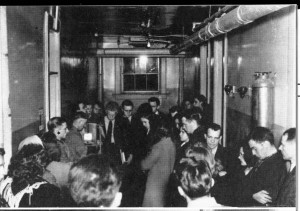 (students listing to Fossum's radio, Old Main)
On this day, St. Olaf President Lars Boe, dictated numerous letters to Oles currently serving in the military. To one soldier stationed at the Marine barracks in Quantico, Va., Boe wrote, "I wish we could go from camp to camp and sing our Christmas carols."
For the first time, the Christmas Festival was scheduled for three nights instead of two (Saturday, Dec. 13, through Monday, Dec. 15). Ticket demand was extremely high and the 7,500 tickets were exhausted immediately. In addition, this festival marked the debut of the newly hired associate director, Olaf Christiansen. It also marked Boe's last attendance at the event as he was too ill to attend the following year and died in later December.
After the three 1941 concerts, Boe reflected on the relevance and meaning of the Christmas Festival in passages like these from his correspondence to family and friends:
It would have done your heart a lot of good to hear Christiansen's crew operate.
At one of the concerts I said in my greetings that it was for a time like this that we had received our Christian faith.
It did my heart good to see the friends come from far and near for our Christmas concerts. … I firmly believe that people continue coming to our St. Olaf Christmas Concerts because we have rigidly clung to the old Christian chorales. It only goes to show that when there is real content and things are well-rendered, they grip even in this day of jazz.