​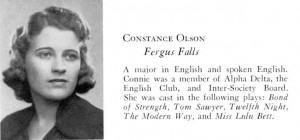 Just a few days before fall term started, two daughters of Constance L. Olson '39, Camilla Hardee and Marcia Haugarth, visited the Archives. To appreciate their mother's college days, the daughters, both from the Dallas/Fort Worth area, retraced her paths on campus. The final stop was Constance's senior dormitory room. On our way over to Mellby Hall to see her room, I commented on student life in the late 1930s and one particular highlight–the first-ever Norwegian royal visit of Crown Prince Olav and Princess Märtha on May 7 and 8, 1939. The entire first floor and part of the second floor of Mellby Hall were devoted as sleeping quarters to their majesties and entourage. Dean of Women Gertrude Hilleboe acted as hostess and gave up her own living quarters to Märtha. Olav was given his own room within the dormitory.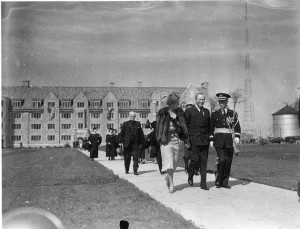 ​
A month prior to the royal visit, Dr. Walter Judd, a longtime medical missionary in China, spoke at chapel. His address painted a vivid picture of Japanese military activities in beleaguered China. Within a week of his talk, 450 of the 505 women on campus voted to "do their part" and boycott Japanese products made of silk, wearing instead lisle cotton stockings as nylon was not yet invented. Their boycott was featured in the local and Twin Cities daily newspapers.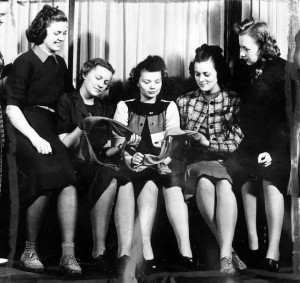 ​
In preparation for the regal visit, the U.S. State Department instructed St. Olaf to supply silk bedding for Olav and Märtha. According to longtime Northfield News editor, Maggie Lee, when the "silken sheets and pillow cases had been purchased for the royal couple, the girls decided to abandon their uncomfortable cotton stockings and return to silk!" Brynnie Rowerg '39 added, "The silk stocking boycott was vigorously opposed by Dean of Woman Gertrude Hilleboe who didn't want all that exposed flesh around."
When we arrived at Mellby Hall, the three of us climbed the stairs to the third floor. They glanced at their notes and wandered down the corridor in search of their mother's room. Room 319 … room 318 … room 316. Each backtracked and questioned aloud, looking left and right, "Where is room 317? Where is our mother's room?" A women's restroom with its glistening white porcelain and tiled floor now sits between 318 and 316. Yes, their mother's room had been converted years ago. Nevertheless, several photographs were taken inside where more than 75 years ago their mother slept–undoubtedly not on silken sheets–counting sheep and not the occasional drip from the faucet.