​Alumni Pledge, ca. 1927
The image above shows a cream-painted Old Main with a hint of ivy growing on the facade. The graduating seniors stand in a ring on the college green, clasping hands for the Alumni Pledge, stating in unison, "United and true until Manitou falls."  The phrase was derived from the vow taken by the men who signed Norway's constitution on May 17, 1814. Supposedly after the signing, the men formed a circle about the room, joining hands and saying, "United and true until Dovre falls."
In her recollections, Manitou Analecta, Dean Gertrude Hilleboe wrote that the Alumni Pledge ceremony became a very important part of commencement day. The tradition apparently started around 1913 and continued until the late 1930s when the graduating classes became too large for the outdoor ceremony. Incidentally, "planting the ivy" was also a celebrated commencement activity during this same era; by the early 1960s, Old Main was cloaked in ivy, and apparently its brickwork suffered as a consequence.
​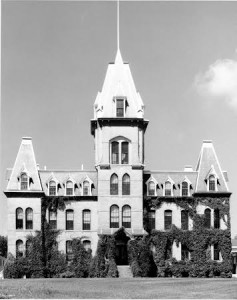 Hilleboe noted the alumni formed an outer circle surrounding an inner circle of the new graduates. "With the president of the Alumni Association presiding, the motion would be made to admit officially the new class into the Association. The graduates would step back into the alumni group to form one large circle and with arms crossed join hands and repeat the Alumni Pledge."
C.K. Solberg* (St. Olaf Class of 1896) composed in 1919 the following poetic lines of "Our Alumni Pledge," which still resonates nearly a century later:
"United and faithful while Manitou stands,"
St. Olaf alumni will gladly join hands,
And pledge Alma Mater by word and by deed
To loyally back her in every need.
All hail, Alma Mater, on Manitou Heights!
We'll champion her cause and we'll safeguard her rights,
Her name we will shield and her honor defend;
St. Olaf alumni are true to the end!
—Congratulations to the Class of 2014.  Stand hand in hand; together making dreams come true.
* C.K. Solberg is the grandfather of TV actor David Soul of Starsky & Hutchfame (1975-1979).