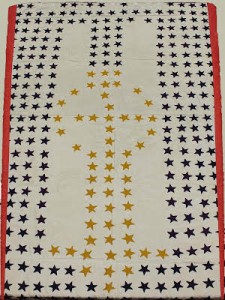 Recently I examined a box from the archives' vault containing St. Olaf's World War II service banner.  The large silk banner, overflowing on a library table in the front office, caught the attention of many.  Service banners, popular in both world wars, were proudly displayed by churches, schools and colleges. Blue stars represented men and women in service; gold stars represented those who gave the ultimate sacrifice.
With initially 300 blue stars and two gold stars, the college's banner was dedicated on Sept. 21, 1942. Prof. Arthur O. Lee '20, who provided the dedication address, said, "We are gathered this morning to dedicate a service flag, a symbol of patriotism raised in honor of our nation's defenders, the sons and daughters of St. Olaf who serve on land, and sea, and in the air in this great war for the preservation of our free institutions, our American democracy, and civilization itself."
Proudly displayed several times throughout the war, the banner was made by the St. Olaf Women's Student Government Association. Arnold Flaten, professor of art, created the design.  With each notification of loss, another cloth gold star, measuring 1 ½ inches wide, was stitched onto the banner. By the war's end the gold stars totaled 57.
With my cotton archival gloves, I touched a few stars and contemplated the promising young lives lost more than 70 years ago:  brothers shot down over Europe; battles engaged in far-flung jungles and deserts; and best friends drowning in distant seas.  The memorial wind chimes on campus attest to their service and time at St. Olaf College.
Coincidentally a few weeks ago, a couple stopped in the Archives and provided a copy of a letter written by George L. Anderson, member of the class of 1944.  He was one of the men I contemplated when examining the banner.
Anderson's letter, dated May 3, 1942, written only days before the fall of Corregidor, assured his parents in Evanston, Ill., that he was "okay." He added in part, "Don't worry about me. Don and I are together most of the time." (He was referring to his college chum and fellow Evansville native Sgt. Don Nelson, member class '42.) and "I think of St. Olaf a great deal, I've also got some wonderful memories from there." Both men enlisted together on Sept. 21, 1941, and remained nearly inseparable. They shared a love of music and it appears at least that George started one or two small choirs while he served in the army.
Both men fell captive to the Japanese army and were held in various prisoner of war camps in the Philippines until October 1944. Anderson, Nelson and two other Ole prisoners, Leif Kloster, and Alvan Ose, both members class '41, were placed on several Japanese prisoner transport ships in October 1944. The transports bore no markings and consequently were torpedoed in the South China seas by U.S. submarines.  Sadly, several thousands lives were lost including all four Oles.
As America celebrates and honors its veterans today, let us not forget the service and sacrifice of those like Anderson, Kloster, Nelson, Ose and the thousands of soldiers associated with the St. Olaf College community since its founding in 1874.  Eighty-nine Oles currently serve in the military across the globe.  Hopefully these individuals know that we remember them and proudly say, "Thank you!"
Photos: Oles in the Spanish-American War and WW I