THIS SITE IS UNDER CONSTRUCTION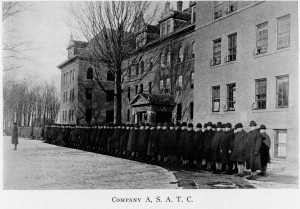 "The Carleton-St Olaf Unit of the Students' Army Training Corps was maintained at the two colleges from October 1st to December 10th, 1918. Co. A (pictured)  and Co. B were stationed at St. Olaf and Co. C at Carleton. The unit was in command of 1st Lieut. Frederic C. Lord and 2nd Lieut. J. B. Shirk, Adjudtant. At St Olaf 2nd Lieut. William C. Benson was the Personnel adjutant, 2md Lieut. Oscar J. Eide in command of Co. A, and 2nd Lieut. Ralph E. Gruye in command of Co. B. Later in the fall, Captain Douglas S. Scrivener took charge of the Medical Department.
There were 228 enlisted men in the two St. Olaf companies. Over 300 men applied for induction on November 1st but many were rejected because of age requirements or physical unfitness. Of the enlisted men, five were sent to regular Officers' Training Camps and more were in the process of being recommended when the war came to an end.
The companies were stationed in Ytterboe Hall which was converted by the government into army barracks. The doors and unnecessary furniture were removed from the barracks and the rooms were kept according to army regulations. They Ytterboe Hall Dining Hall was converted into an army mess hall. The old athletic grounds served admirably as a drill field. The guard lines enclosed the barracks and part of the campus and within these lines the government exercised complete control."
Excerpt from the Victory Viking 1919-1921