by Maura De Chant, Class of 2007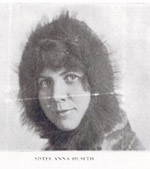 "She Hath Done What She Could." So says the tombstone of Sister Anna Huseth, a former Ole and missionary to Alaska in the 1920s. Few could ask for a more poignant epitaph. The St. Olaf Missionary tradition has always been strong, from Agnes Kittlesby's work in China to today's Habitat for Humanity chapter. From the very beginning, women Oles have played a huge role in the mission work. Sister Anna, class of 1916, who became a missionary in Alaska only ten miles south of the Arctic Circle, is one example.
Anna Huseth was born in 1892 near Kenyon, Minnesota and attended St. Olaf for three years until 1916, when she left to take a short medical course at the University of Minnesota. During her childhood she had lost several close family members to illness, and decided that she wanted to be a nurse and alleviate other people's suffering. She eventually attended the Lutheran Deaconess Hospital in Chicago and graduated from their nursing school in 1917. During the influenza epidemic of 1918, Anna came to St. Olaf to attend to the sick, and then returned to the Lutheran Deaconess Hospital to be consecrated a Deaconess in 1919.
Her missionary work began shortly after her consecration, with an assignment to an orphanage in Teller, Alaska. While there, Sister Anna found that the town of Shishmaref, a mere 10 miles below the Arctic Circle, was in desperate need of medical help. The nearest doctor was over 100 miles away, and most Inuits did not trust white people anyway, thanks to the double dealing and ill-treatment by white traders. However, Sister Anna was undeterred and soon began to travel the 50 miles between Teller and Shishmaref by dogsled with alarming frequency. Her commitment quickly won over the people of Shishmaref, and Sister Anna became a fixture of the town. She delivered babies, nursed the sick, and led Bible studies, all with the quiet dedication and kindness that endeared her to everyone she met.
Living as a single woman in northern Alaska was no easy feat, but Sister Anna found herself more than capable of rising to the challenge. She was widely acknowledged to be the best woman hunter in the area. Her letters home speak of commitment to work admidst adversity. In one such letter she wrote:
It is lonely at times but there is hunting, boating, fishing and plenty of work to get ready for winter. The work has kept me very busy but it has been interesting. As one learns to understand the Eskimo, one likes them….Our little village, when the spring break-up comes, is flooded so that we must move out. We pack provisions and tents and go inland to camp where we fish and hunt so as to get our winter supply of food ready.
Her skill with the dogsled was unmatched, and she regularly "out-mushed" all the men. She traveled the 50 miles between Teller and Shishmaref at record speeds, and even competed in the famed Alaskan Iditarod dogsled race. One night, while out on a house call, Sister Anna became lost in a blizzard and was forced to find shelter in an abandoned cabin. She credited that terrible night with reaffirming her commitment and belief in God and the mission.
In 1926, the Amundson-Ellsworth Polar Expedition spent several weeks at Teller after completing their flight across the North Pole. Sister Anna so impressed Roald Amundson he dubbed her the "Heroine of the North" and one of the members of the mission wrote a poem praising the kindness and steadfastness of the mission. When the spring thaw of 1928 came, Sister Anna left Shishmaref and Teller for the US, hoping to raise money for a permanent mission in Shishmaref. She inspired the Lutheran Daughters of the Reformation to sponsor the mission, but did not live to see it built. In April of 1929, Sister Anna succumbed to a heart condition while on the long trip back to Shishmaref. The mission, completed in 1930, is still known as the "Anna M. Huseth Memorial Mission."
Sister Anna's legacy lives on in more ways then one, however. Her great-grandnephew, Eric Huseth, is currently a sophomore at St. Olaf College, majoring in Music and Religion. Eric is considering attending the seminary after graduation, and has gone on several mission trips within the US as well as worked as a camp counselor during the summer. In 2002, Eric and his family visited the mission in Alaska, where he met several people who were baptized by Sister Anna and remember her kindness.
*Sources: Aaker Family papers, Norwegian-American Historical Association