Some years ago I was asked by my cousin Gertrude Hilleboe to write some stories about the olden days at St. Olaf College, since I am the youngest descendant of two of the pioneer families, the Ytterboe and the Mohn families. My good friend Dr. Agnes Larson also asked me to write all I could remember about my father and mother, Professor and Mrs. H. T. Ytterboe.
At that time I did not believe I could add anything to what had already been written, but as I began to recall those days I remembered so much of what had happened, and knew so much from what the two families had told me, that I decided it would be well to put it down in writing.
And then there was the further thought that my two children, my daughter Elise Sanguinetti and my son Harry Brandt Ayers, who we're born and brought up in the Deep South, might like to read something about their mother's early life and background, as the years roll on and I am here no more.
I wish to thank Miss Nora Solum for her helpful criticism and Dr. Sidney A. Rand, President of St. Olaf College, for his generous recommendation.
EDEL YTTERBOE AYERS
Anniston, Alabama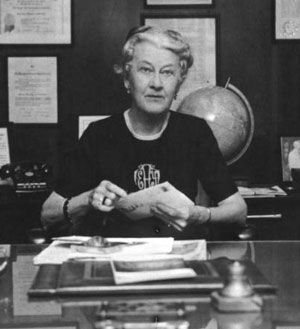 The Old Main
Chapters:
Foreword
Mohn and Ytterboe Family Connections
The Old Synod
The Reverend Bernt Muus
Young Professor Ytterboe
The First Bathtub at St. Olaf College
1898-1899
1899
A New Day and A New President
Chapel Prayers by H. T. Ytterboe
1903-1904
Aftermath
Erik Hetle and Ole Rölvaag
Hoyme Chapel
Old Buildings at St. Olaf College
1300 St. Olaf Avenue
Agnes Margaret Kittelsby
Professor O. G. Felland
Agnes Mellby
Town and Gown
Music at St. Olaf
St. Olaf's First Rhodes Scholar
My Mother, Mrs. H. T. Ytterboe