Jeff Sauve Assoc. College Archivist Shaw-Olson Center for College History
My latest auction find was a collection of the storied Burma Shave jingle signs. I wasted little time in hanging these brash red and white signs around the house. One of the sign captions reads, "Said Farmer Brown," and is riddled with bullet holes. Another carries the tagline, "Burma Shave." I proudly nailed that one to the inside of our privacy wall surrounding the deck. Neighbors give me funny looks when visiting. But most of them simply ask, "You like old stuff, right?" I'm sure they're glad I didn't hang one of these signs on my front porch.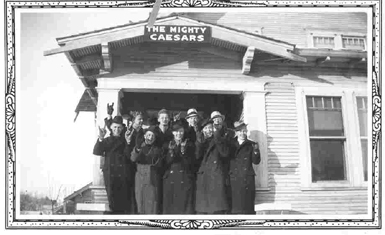 Seventy years ago ten St. Olaf fellows living off campus at 914 West Second Street, "liberated" a Burma Shave sign that said, "The Mighty Caesars." They proudly placed it on the outside front entrance of the house. The complete caption read:
Pity all
The Mighty Caesars
They pulled each whisker out
With tweezers
Use Burma Shave
Members of the house didn't inquire how the wood sign came into their possession. To this day the three remaining members (Dick Solberg, Ansle Severtson, and Ivan Hinderaker) won't say who procured the sign. These ten men-all but one from the class of 1938–(Art Feroe, Theos Morck, Roy Thorson, Selmer Peterson, Al Grundahl, Erling Kloster, Jerome Helland, Solberg, Severtson, and Hinderaker) wasted little time in adopting the "Mighty Caesars" as their house namesake.
While other students who lived off campus and also named their abodes– "Seldom Inne Knights," "Lazee Man Shun," "Bee Hive," and "Blue Goose"–the Mighty Caesars went one additional step. Stationery was printed with individual initials monogrammed on the upper left; the "The Mighty Caesars Veni Vidi Vici St. Olaf College" in the middle; and the names of the ten inhabitants listed on the far right.
When the men "parted" as housemates, the board was sawed into ten pieces. It was agreed that the sign would be "put back together" when attending a future class reunion. After graduation, many of them remained life-long friends. Each man became successful in his own right with varied careers. Four became pastors; one, an attorney; one, a college treasurer; four, college professors; one, a university chancellor; two, medical doctors; one, an engineer; and one, a businessman.
In 1988, at the fiftieth-anniversary reunion, eight "Mighty Caesars" attended. Severtson recalled, "I was the only one who brought my piece of the sign; the others said they had lost track of theirs." Whether or not the sign was put back together like a puzzle, the men have always identified themselves collectively as "The Mighty Caesars."
To learn more about the history of Burma Shave, see:http://www.npr.org/programs/morning/features/patc/burmashave/