By Jeff Sauve
A particularly unique tradition of St. Olaf College is the group photograph of the current and past presidents taken during inaugural activities. Since 1985, presidents George, Edwards, Thomforde and Anderson have stood, side by side with their predecessors, holding portraits or photographs of the deceased.
This tradition has its roots dating back to President Lars W. Boe's inauguration in 1918. O.G. Felland, a member of the faculty from 1881-1925 and always keenly aware of marking history, took the first group photograph.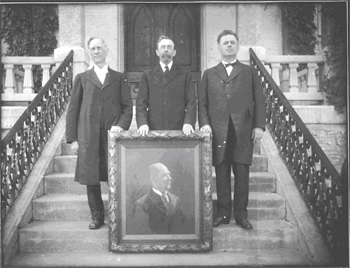 Upon closer inspection, the 1918 photograph, taken on the front steps of Old Main on September 26, demonstrates Boe's (right) leadership and confidence in St. Olaf's future. What is odd about the image is that Boe's predecessor, Lauritz A. Vigness (1914-18) is in the middle place of honor. John N. Kildahl (1899-1914) is on the far left. He would pass away in a few short years. Vigness is holding a portrait of St. Olaf's first president, Thorbjorn N. Mohn (1874-99), Boe's friend and teacher from his student days.
When George gave his inaugural address years later on Sept. 29, 1985, he stressed the theme of making connections between tradition and change. He said, "For while we do not worship that which has gone before, we surely can best shape our future in the light of what we have been." Frederick H. Gonnerman, then director of Information Services, saw an opportunity to illustrate George's theme by re-creating a Felland image he recalled seeing in the college archives several years earlier. Upon Gonnerman's suggestion, the group photograph was set in motion and is still in practice today.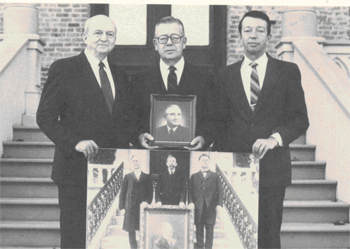 An exhibit of the presidents of St. Olaf is available online.
–Jeff Sauve
Assoc. College Archivist
Oct. 2006