JUNE 2003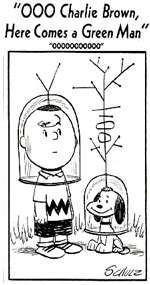 By Jeff Sauve, Associate Archivist, Center for College History
While preparing for reunion weekend, I ran across this wonderful little one-of-a-kind cartoon by Charles Schulz of Peanuts fame — you will notice that Snoopy is on all fours. Snoopy remained flat-footed until the following winter when on Jan. 5, 1956, Snoopy first walked on two legs. Peanuts was first published in 1950 and gained steady readership by 1955.
This cartoon, created exclusively for the March 18, 1955, Manitou Messenger is a little odd. Further investigation reveals the hidden meaning behind the helmets and projecting antennas. The theme of the spring 1955 Student Chest Carnival was "2002 — space ships, rockets, flying saucers — a new world of science, of new planets discovered, of trips to the moon, of ray guns and green men." The cutline under the drawing says, "Best wishes to everyone involved, and may your carnival be a complete success." I assume that Schulz sent an original drawing to the Messenger.
Unfortunately the Archives does not have this drawing nor do we know who does. If you have information about the drawing, contact me at sauve@stolaf.edu or 507-646-3229. For more Snoopy fun, visit www.unitedmedia.com/comics/peanuts and www.schulzmuseum.org.