Take a drive up to the Minnesota History Center in St. Paul and catch a wonderful new exhibit, "The Minnesota 150," highlighting 150 people, places, things and events that shaped Minnesota's history.
Winnowing the list to 150 must have been a daunting task as more than 2700 nominations were received. Nominations were evaluated on several criteria including quality of argument, origination, geographical distribution, diversity of experience, chronological distribution, etc.
St. Olaf College is represented in The Minnesota 150 in three ways (F. Melius Christiansen, O.E. Rolvaag, and WCAL).  For the past six months, the College Archives assisted the Minnesota Historical Society. The archives provided audio clips and photos for the Christiansen exhibit. For Rolvaag, the archives lent a model fishing boat as well as a drawing of that boat. Photos, audio clips and authentic WCAL microphones were provided for that exhibit.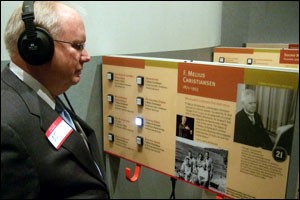 (B.J. Johnson, Music Organizations manager, at the F. Melius Christiansen listening exhibit. Photo by David Gonnerman)
Beyond the recognition of St. Olaf, exhibits that I particularly enjoyed included a State Fair butter bust, a Greyhound bus (cut in half), Jesse Ventura action dolls, a rock from the moon, and a wolf tracking collar. My 12-year-old son, Holden, repeatedly played an interactive history trivia game. I have to admit that it's difficult, if not impossible, to take in all 150 exhibits in one visit. I expect a couple trips to the History Center would be necessary. This exhibit literally has something for everyone.
The exhibit, for which John Lindell '68 served as chief designer, opened October 13, 2007, to kick off the celebration of 150th anniversary of becoming the 32nd state admitted to the Union. The sesquicentennial will be a yearlong, statewide celebration featuring four major themes: Education, Innovation, Arts & Cultures, and Health and Wellness.
To learn more about The Minnesota 150, visit http://www.mnhs.org/exhibits/mn150/