By Jeff Sauve
When I arrived at campus on a recent morning only the faint music of the memorial wind chimes greeted me. I stood for a few minutes, reflecting on the many student names engraved on the chimes. Out of the 115 names, 24 are those of Oles who served in the military. These students, who joined the service before graduating, never returned. Their stories are a testament to service and honor of this country.
These stories and many more are archived due in great part to the efforts of Miss Gertrude Hilleboe, longtime Dean of Women. Early in her career she saw a need to connect to Oles who were serving in WW I. With the advent of WW II, Hilleboe continued the practice of sending newsletters to as many service men and women as possible. The response was fantastic. Oles stationed all over the globe responded with gratitude for receiving any kind of news. Some letters such as this one from Orval Perman '41, recount daily activities that illustrate a soldier's life:
November 26, 1943
Somewhere in North Africa

The Wednesday night before Thanksgiving we held a service… All of our 3 chaplains took part and the Base Commander read the President's Proclamation. One of the Lieutenants sang some songs–and what a beautiful voice he had. I am enclosing a copy of the program- also the menu of our feast which we had the next day. [Menu items include: cream of tomato soup, pear and cheese salad, roast Vermont Tom Turkey, giblet gravy, nut dressing, boiled onions, mashed potatoes, apple pie and coffee].
During the holidays, soldiers became increasingly homesick; longing for the routine of everyday life, which included fond memories of student days. Lt. Bob Griffiths '41, Army Air Corps, responded to one of Miss Hilleboe's letters:
Nov. 10, 1943
North Africa

As I read it, Africa just vanished from the picture. Something like going on furlough (I'll have to presume because I've never had one), returning to what I knew a few years ago….Naturally, as the Christmas season approaches our thoughts and our hearts return to home, our loved ones and "our school."…I remember how in November we began to look forward to going home for the holidays, a pleasant release from the beauty that was St. Olaf. Yes, that was as it should be.

But now! I'd sort of like to combine the two, standing half way between them, yet able to reach out and touch and enjoy their significance to me. That would make it complete. However, I can't reach out and have both, I can be somewhere between in spirit. Perhaps that is the way it should be in as much as we are in positions that home and school have prepared us for.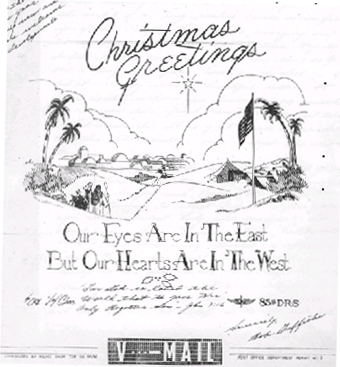 I am drawn to Griffiths' phrase, "somewhere between in spirit." It is a place caught between the welcoming morning sun, the whoosh of the wind turbine, and the soft voice of a singing student passing by. However moved I may be by the sights and sounds of Manitou, I know many others are far removed. Today approximately 65 Oles are serving in the U.S. forces. Whether or not they receive news from the Hill is unknown to me, but they surely receive my thanks for their service and dedication.
Griffiths and Perman met up in Africa in September 1943. Griffiths reported that he, Perman, and Capt. Chris Lund '41, had a "St. Olaf Alumni Meeting." Lund, who was one of the first Oles to go overseas, spent the previous two years flying transport planes for the Air Transport Command in Africa.
Griffiths married Camilla Redstone '41. In 1980, they lived in Bethesda, MD.
Perman married Jean Hillestad '43. They owned a clothing store in Northfield for many years.
–Jeff Sauve
Assoc. College Archivist