Project Description
Monkey House: a Digital Poem is an original work merging together poetry by Professor Jennifer Kwon Dobbs and multimedia footage by award-winning artist Jane Jin Kaisen in a virtual reality environment. Its title comes from the American soldiers' name for a U.S. Military STD Clinic located in Dongducheon near the Demilitarized Zone– a violent holdout of the Cold War and a lush nature preserve paradoxically protected by violence. Now dilapidated and penetrated by wilderness, Monkey House functions as a visual metaphor for what scholar-poet Joyelle McSweeney terms the necropastoral: "the pastoral re-marked as a zone of exchange, shading this green themepark with the suspicion that the anthropocene epoch is in fact synonymous with ecological endtimes.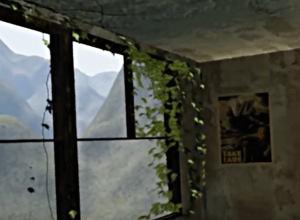 Professor Kwon Dobbs worked with Digital Scholarship Intern Magnus Cardell and the St. Olaf digital scholarship staff to develop a vocabulary and methodology  for realizing Monkey House using virtual reality tools. The resulting proof of concept piece is an immersive, interactive environment where the poem may be explored within the environment, constructing and re-constructing itself in real time as the "reader" chooses their own route through the VR environment.
The purpose of "Monkey House: a Digital Poem" is to develop an interpretive vocabulary for grappling with the Korean Demilitarized Zone, which is both landscape and body, connective tissue and wound, and ark and crypt of historical meanings that define contemporary Korean national/diasporic experience. More specifically, it seeks to bring feeling and attention to the DMZ's figuration as public health/military hygiene tied to the wellbeing of a fledgling South Korean nation during the late 1940s-early 1950s. The digital poem will further stage how this contagion continues to surpass [Cold War] containment, intermingling a topos of skin with the topography of the DMZ.


More Projects